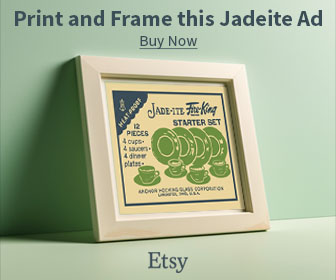 Jadeite Obsessed
Hi, my name's Connie and I'm guilty of being wayyyy too obsessed with Jadeite. After many years of collecting, I still get genuinely excited when I see it. Especially if it's a good deal, and especially when I stumble across some of the more rare pieces.  
You would think that after a lifetime of collecting it, the fever would have cooled off by now, but I'm still as wildly obsessed as ever.  In fact, maybe even more so than when I first started collecting, if that's even possible.  
What is it about this mass-produced, common scrap glass that siphons all my spare cash, and occupies most of my free time hunting for it?  I wish I knew the answer to that.  If I did, I might be able to better justify the money I've spent.
Current Prices for Jadeite Dishes
A Day In The Life Of A Jadeite Hoarder 
You might be wondering what the typical day of a Jadeite hoarder is like.  Well, for me, it starts with persistently checking Facebook Marketplace, Craigslist, eBay and Etsy multiple times a day for Jadeite gems.  
I'd like to say that's an exaggeration, but sadly it isn't. 
I'm semi-retired which gives me enough time to hunt for rare Jadeite pieces. And for the most part, I keep my crazy Jadeite obsession under lock.
Current Prices for Jadeite Dishes
However, I have a feeling my long-time supportive husband would likely disagree with that.  He's the one who willingly takes me from Vancouver to Kamloops, BC and everywhere in between to pick up Craigslist and Facebook deals because he knows I don't like to drive out of town.  He's a pretty good sport about it all, especially considering he has absolutely no interest in Jadeite.   
When I'm not hunting for Jadeite, I spend a lot of time researching pictures and searching for ideas on how to display Fire-King Grill's Jadeite collection.
Read more: 5 Tips for Entertaining with Vintage Pyrex & Jadeite Dishes
At times, I'll even take a trip down to the spare room where I keep the overflow pieces forced to live in boxes. I have more Jadeite than I have room to display it all, so some of it has to remain in boxes for safekeeping. 
On the topic of hoarding, I think I'm going to start referring to myself as someone who has a preoccupation with Jadeite rather than someone who has an obsession with it, or hoards it.  
Being a hoarder invites the need for an intervention. I can still make my way into the house without having to tiptoe around towers of precariously stacked Jadeite, so I'm pretty sure I'm not a hoarder, but rather, just someone with a fascination with Jadeite dishes history. But is my spare bedroom filled to the brim with boxes of surplus Jadeite?  It may or may not be…
Read more: How to Collect Jadeite Dishes: A Beginner's Guide
How Many Batter Bowls is Too Many?
Tomorrow, I'm off to meet a Facebook seller who is parting with 8 Fire-King Jadeite Restaurant Ware mugs and 2 FireKing Jadeite batter bowls.  
The batter bowls will bring Fireking Grill's inventory to a hoarder level capacity – I've lost count, but two more will probably put us at around the 15 mark.  
My preoccupation with Jadeite batter bowls relates to my grandmother.  She had one, and as a child, I was always curiously attracted to it.  Whenever I see them, they always remind me of her, so I guess I tend to seek them out for sentimental reasons. 
Read more: Fresh Finds: Batter Bowls & Jadeite Fever
My Top Secret For Using Jadeite Dishes
Many people worry about devaluing their Jadeite if they use it regularly.  It's certainly true that handling it and using it often increases the risk of damaging it.  So, what we do at Fire-King Grill is create beautiful tablescapes, make memories, and take great care of our dishes. 
For me, creating long lasting memories around the dinner table with family and friends brings more joy than keeping them tucked away under lock and key. 
From one hoarder to another, please, use your Jadeite and have fun sharing your collection with others.
Read more: How to Care for Jadeite Dishes
Current Prices for Jadeite Dishes