How to Identify the Fire-King Restaurant Ware Design
Fire-King Restaurant Ware Jadeite dishes are easy to identify because they are about twice as thick as other Jadeite dish patterns like Jane Ray or Alice. Restaurant Ware is undecorated and has a clean, timeless appearance.
Earlier dishes were made the thickest, and are preferred by collectors. Later pieces were made slightly thinner and the dinner plate edges have a subtle beaded rim. An Anchor Hocking newspaper ad from 1950 describes Fire-King Restaurant Ware:
"Jade-ite Fire-King Restaurant Ware is the lowest-priced tableware service on the market. It undersells the usual vitrified [heat-proof] ware by about 50%. Heat-proof, it will not crack or craze from hot foods. Stain-proof, it's smooth, hard surface will not discolor. Made of durable Fire-King Ovenglass, it is rugged and will take rough punishment. Non-absorbent, it is sanitary, easy to clean and keep clean. Colorful, it makes an attractive and appetizing setting for foods. Jade-ite Fire-King Restaurant Ware is supplied in complete service and is widely used by restaurants, cafeterias, lunchrooms, institutions, fountains, coffee shops, hotels, hospitals and other mass-feeding establishments."
Source: Anchor Hocking Advertisement, Lancaster, Ohio. Lancaster Eagle-Gazette (Lancaster, Ohio), June 3, 1950, Page 130.
Current Prices for Jadeite Dishes
Collector's Notes on Restaurant Ware Fire-King Jadeite Dishes
Overall, Fire-King Restaurant Ware is a common pattern to find for sale and is generally the most popular pattern among collectors. Production began in the late 1940s and Restaurant Ware became Fire-King Jadeite's best selling line. Affordable, durable, and its cheery green color made these Jadeite dishes a success coming out of the Great Depression.
Because Jadeite dishes were used in institutions, Hollywood also uses them, like in the Netflix horror show, "Ratched". The series is a spinoff of One Flew Over the Cuckoo's Nest and follows the cruel practices of Nurse Ratched in a 1940s California psych ward.
In episode 2, you can see Jadeite dishes being used in the staff room. Pictured is a Jane Ray creamer, and a mixing bowl in the background.
There's no doubt; Jadeite dishes can have a haunting appearance in the right setting.
Learn More: Spooky Stuff! These Jadeite Dishes Glow Under a Black Light
But not many dishes can pull double duty and be appropriate for Christmas, Easter, as well as nearly any occasion. Depending on your tablescape goals, Jadeite can take your entertaining in any direction.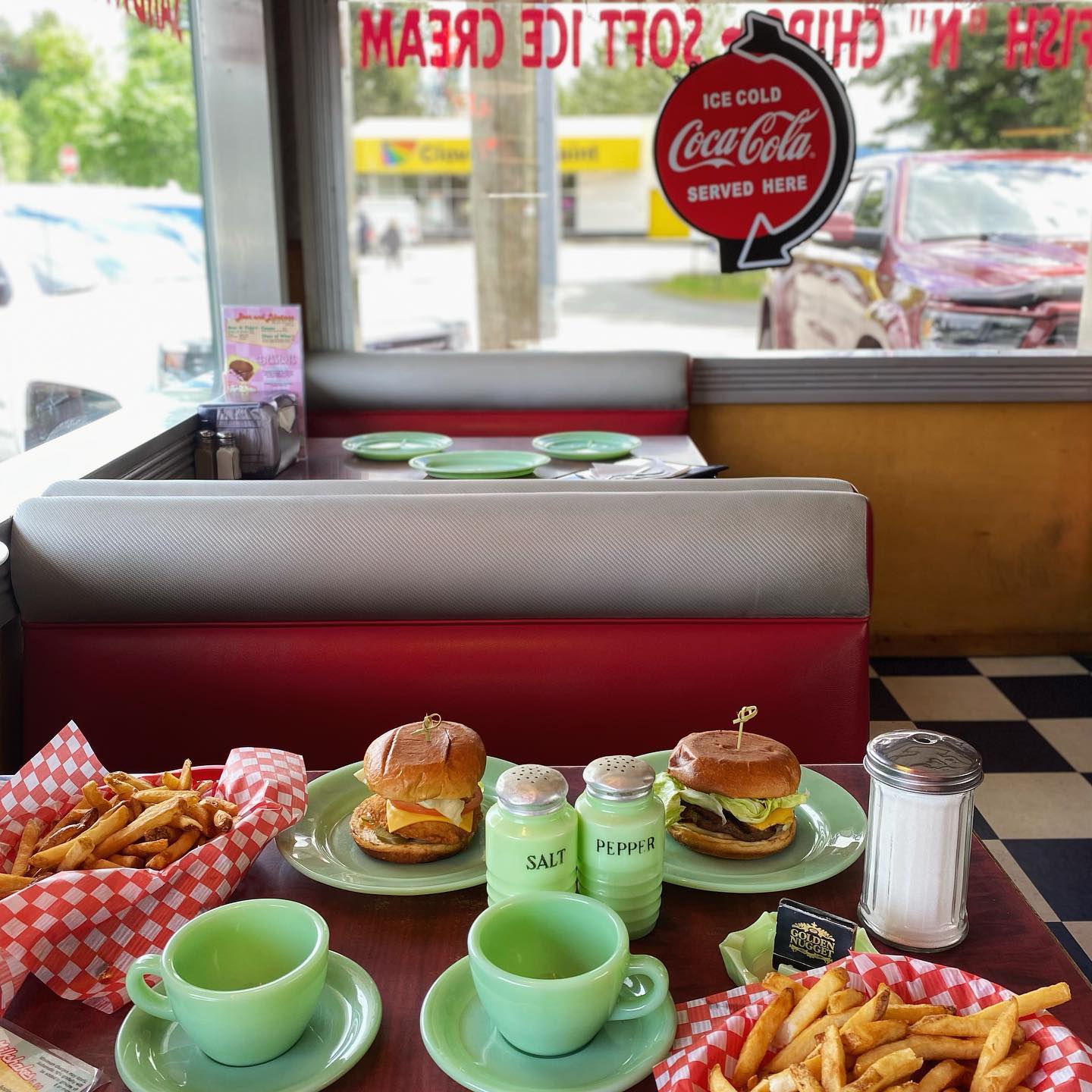 The versatility and fascinating history of Jadeite dishes are what keeps collectors wanting more as prices continue to rise. The rare Jadeite dishes to collect for Fire-King Restaurant Ware are:
8" luncheon plate
Small sandwich platters
Ball jug pitcher
10 ½" dinner/serving plate
Large handled soup cup and saucer
The 9" flanged/flat rim soup bowl
5" handled bowl
Gravy boat
8 ⅞" oval plate (not partitioned). There are several Restaurant Ware platters close in size, so measure yours to confirm.
The 9 ¾" platter has been named the "football platter" by collectors. For you entertainers, this makes it the perfect dish to serve appetizers on for your next Super Bowl party.
The Ball Jug Pitcher is extremely hard to find and considered a holy grail piece to collect. Almost impossible to find in good condition; either the spout or handle seem to have cracks if they are listed for sale. While the ball pitcher belongs to the Restaurant Ware line, it is much thinner than the rest of the pieces. Beware of reproductions. Ball Jug Pitcher reproductions are sold on eBay, but their price is nowhere close to an authentic vintage one. Even authentic vintage pitchers with cracks can easily go for $400 USD or more. Restaurant Ware Jadeite dishes are our absolute favorite to collect. We love the thickness and durability of them, and their timeless design that can be dressed up or dressed down for any occasion.
Distinguishing between some of the Restaurant Ware mugs and cups can prove to be quite a challenge. The 7 oz Coffee Mug and the Extra Heavy 7 oz Coffee Mug can look almost identical, so use a scale to measure the weight. Even then, there can be slight variations in the weight due to quality control issues. We measured 5 different 7 oz Coffee Mugs and they weigh between 321g and 338g.
We measured our Extra Heavy 7 oz Coffee Mug and it weighs 437g.
The 7 oz Cup and Extra Heavy 7 oz Cup are also difficult to tell apart. There is not much of a difference in weight, but the rim of the Extra Heavy cup is noticeably thicker than the regular 7 oz Cup. We weighed our 7 oz Cup at 293g. Our Extra Heavy 7 oz Cups weighed between 297g and 312g.
Then we have the 6oz Straight Cups and the 7oz Tapered Cups. The straight cups have a wider base then the tapered mugs, but the difference is very slight. Even with the comparison shot below, they look almost identical. The easiest way to tell the difference is to measure how much water each cup holds. We would not have known the difference unless we measured.
And then there is the 6 oz slim hot chocolate mug. This one is a bit easier to identify from the other Restaurant Ware mugs because of its dramatic tapered sides. But measure how much liquid it holds to be sure. This mug holds 6 oz, while the other similar looking mugs hold 7 oz.
We use our Restaurant Ware Jadeite dishes every day as our main dishes! They bring us endless amounts of joy to use them, and we encourage other collectors to use their dishes as well. You should be able to find enough pieces to complete a table setting as there are a wide variety of pieces available.
Years Made
[wpcode id="10617″] Fire-King Restaurant Ware was first made in 1948, and had a long production run of 19 years until 1967.
Learn More: The History of Jadeite Dishes
Learn More: The History of Fire-King Anchor Hocking (Part 1 of 4)
Other Colors
Along with Jade-ite, Restaurant Ware was also produced in:
Anchorwhite
Azur-ite (blue)
Crystal
Rose-ite (we think this color complements Jadeite very well.)

Fire-King Restaurant Ware Jadeite Beaded Rim Bowl
Fire-King Markings for Restaurant Ware Jadeite Dishes
Because of Restaurant Ware's long production line, almost every Fire-King mark was used. Look for these trademarks:
[wpcode id="10617″] FIRE-KING OVEN GLASS (oldest)
OVENFire-King Glass
OVENFire-King WARE
OVENFire-King WARE MADE IN U.S.A (1951+)
ANCHOR HOCKING OVEN Fire-King WARE MADE IN U.S.A (1962-1967)
Generally, the more details included with these markings, the newer the dish is.
Learn More: How to Identify Fire-King Jadeite Dish Markings
Fire-King Restaurant Ware Dishes Made in Jadeite
Fire-King Restaurant Ware Jadeite dishes to collect include: Bowls:
4 ¾" fruit bowl
5" handled bowl
9" flat soup bowl
Flanged rim 8 oz cereal bowl
10 oz breakfast bowl
15 oz deep bowl
Cups:
Demitasse cup
6 oz straight cup
7 oz extra heavy cup
7 oz narrow rim cup
7 oz tapered cup
7 oz coffee mug
6 oz slim chocolate mug
Plates:
5 ½" bread and butter plate,
6 ¾" pie or salad plate
8" luncheon plate
8 ⅞" partitioned oval plate (the 10 oz Breakfast Bowl is meant to fit in the partition)
9" dinner plate
9 ⅝" 3-compartment plate (comes with or without tabs. Tabs made the plates easier to stack.)
9 ⅝" 5-compartment wagon wheel plate,. The 6 oz slim chocolate mug is meant to fit in the middle).
6" saucer
Demitasse saucer
 
7 ½" saucer for handled bowl
Servingware:
Gravy or sauce boat
Ball jug pitcher
9 ½" oval platter
9 ¾" oval "football" platter (wider than the regular 9 ½" platter)
11 ½" oval platter
Research Sources
Learn more about Jadeite dishes with these collector guides, available on Amazon:
Current Prices for Jadeite Dishes
Florence, Gene. Anchor Hocking's Fire-King & More: Identification & Value Guide including Early American Prescut and Wexford. Collector Books, 1998.
Ross, David, and Joe Keller. Jadite: An Identification & Price Guide. Schiffer Publishing, Limited, 2014.
Wilkins, Jerry, et al. A Collector's Guide to Anchor Hocking's "Fire-King" Glassware.
K & W Collectibles, 1991 Mauzy, Barbara E. Mauzy's Depression Glass: A Photographic Reference with Prices. Edited by Barbara E. Mauzy and Jim Mauzy, Schiffer Publishing, Limited, 1999.
Current Prices for Jadeite Dishes