How to Identify the Fire-King Philbe Design
Fire-King Jadeite Philbe ovenware dishes can be identified by their embossed floral pattern.
The Philbe mug will have a D-shaped handle, and will have the embossed design down one side, with the other side only having the band design near the top.
The bottom of the mug will be flat like a shaving mug.
The pie plate features the Philbe design on the back and sides, and is plain on the front.
The fridge dishes feature a circular embossed Philbe design on the lids of the small square and large rectangular dishes. Each side of the dishes also features the Philbe design that spans almost the whole width.
Current Prices for Jadeite Dishes
Collector's Notes on Philbe Fire-King Jadeite Dishes
Due to its age, rarity and lovely embossed design, the Fire-King Philbe pattern is very desired by collectors in Jadeite and all other colors.
Philbe is certainly an investment, as this glassware gets harder to find and prices increase.
The three stacking fridge containers can be used to bake, store, and serve food from, making them a staple in the kitchen. The two smaller fridge dishes stack on top of the large one and were sold as a set for just $0.49 in 1950.
Today, you can complete a set for anywhere from $200 to $400 USD.
A complete set with the original box was just listed on eBay for $475 and a best offer was accepted. It's unknown how much the offer was, but I would guess it was close to the asking price. You just don't see an original box for a Philbe fridge dish set everyday!
This Fire-King glassware is heat proof and meant to go in the oven. I use the big fridge container to bake banana bread in as it's the same size as your standard loaf pan.
Philbe refrigerator dishes are fairly easy to find, however finding the Philbe embossed mug, juice saver pie plate, and custard cups will all be very difficult.
Custard cups are too scarce to give an estimated value.
A Fire-King Jadeite Philbe juice saver pie plate can sell for $400+.
The 8oz mug was produced with the Philbe embossed design, as well as a plain mug that's referred to as a "Philbe Wannabe" mug by collectors. The mug with the Philbe design is very rare and can sell for $800 to $1000+ on eBay.
Years Made
The Fire-King Jadeite Philbe pattern was made in the 1940s.
Current Prices for Jadeite Dishes
Learn More: The History of Jadeite Dishes
Learn More: The History of Fire-King Anchor Hocking (Part 1 of 4)
Other Colors
Along with Jadeite, Philbe depression glass was also produced in pastel ivory, pastel white, and translucent sapphire blue, pink, green and crystal.
Fire-King Markings for Philbe Jadeite Dishes
Philbe glassware was one of the earliest Fire-King Jadeite patterns produced. As a result, Philbe dishes do not have the Anchor Hocking or Fire-King marks.
Learn More: How to Identify Fire-King Jadeite Dish Markings
Fire-King Philbe Dishes Made in Jadeite
Several Fire-King Jadeite pieces were produced with the embossed Philbe design, including:
5 ⅛" x 9 ½" Refrigerator dish with lid
4 ½" x 5" Refrigerator dish with lid
5oz custard/dessert dish
6oz custard/dessert dish
10 ⅜" Juice saver pie plate
8oz mug with Philbe design
8oz mug with no design. (referred to as the "Philbe Wannabe" by collectors.)
Research Sources
Learn more about Jadeite dishes with these collector guides, available on Amazon:
Florence, Gene. Anchor Hocking's Fire-King & More: Identification & Value Guide including Early American Prescut and Wexford. Collector Books, 1998.
Ross, David, and Joe Keller. Jadite: An Identification & Price Guide. Schiffer Publishing, Limited, 2014.
Wilkins, Jerry, et al. A Collector's Guide to Anchor Hocking's "Fire-King" Glassware.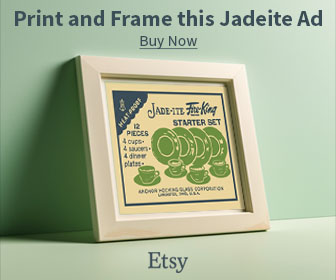 K & W Collectibles, 1991 Mauzy, Barbara E. Mauzy's Depression Glass: A Photographic Reference with Prices. Edited by Barbara E. Mauzy and Jim Mauzy, Schiffer Publishing, Limited, 1999
Current Prices for Jadeite Dishes