How to Tell the Difference Between Real and Reproduction Jadeite Dishes
With so many new companies making Jadeite dishes, it can be difficult to tell the difference between authentic vintage Jadeite dishes and reproductions.
If you are looking to buy Jadeite dishes that were made from the 1920s to 1970s, you'll want to learn how to identify these dishes so you know you're buying the real thing.
Most new companies are honest and advertise their Jadeite dishes as reproductions. These are easy to spot and are usually listed in the item description online, as well as on the packaging.
But sometimes sellers are misinformed and mistakenly advertise new Jadeite dishes as old ones. This leaves it up to you, the buyer, to do your homework and make sure you're getting the real thing.
The best way to spot a fake is to learn what the real thing looks like. So by getting familiar with authentic Jadeite dishes, it will be much easier to identify the reproductions.
We've split up this how-to guide into these sections. Click on them to learn more:
Current Prices for Jadeite Dishes
Check Out Our Jadeite Dish Collector Guides
These Fire-King Grill Guides with pictures will help you learn how to tell real Fire-King Jadeite dishes apart from reproductions:
How to Identify Fire-King Jadeite Dish Markings
Fire-King used different glassware marks throughout the years. This detailed guide with pictures will show you what marks were used, and how old your Jadeite dishes are based on the marks.
Read the Full Guide: How to Identify Fire-King Jadeite Dish Markings
How to Identify Fire-King Jadeite Patterns
These guides for the major Fire-King Jadeite patterns will help you distinguish each major dinnerware pattern. You'll also learn what marks were used for that pattern, or if the dishes were unmarked, when they were made, and how to tell what each pattern it is. Restaurant Ware, Jane Ray, Alice, Swirl and more are all covered!
Read the Full Guide: How to Identify Fire-King Jadeite Patterns
Do Jadeite Dishes Glow in the Dark?
Both real and reproduction Fire-King Jadeite dishes do not glow in the dark.
Real vintage McKee and Jeannette Jadeite dishes do glow in the dark.
If you are looking to buy old McKee and Jeannette Jadeite dishes, be sure to bring a U/V blacklight flashlight with you. These older dishes contain uranium and will glow when exposed to a black light. This will give you the proof that they are authentic. Jadeite dishes were made with uranium before World War II.
Read the Full Guide: Do Jadeite Dishes Glow in the Dark?
Buy From Amazon: UV Black Light Flash Light
Read these Jadeite Dish Collector Books
We rely on these Jadeite Dish collector books to help us research prices and historical information, and recommend you add them to your library as well. The next time you want to buy and sell Jadeite dishes you can use these books to help you.
Although the prices are outdated as most print price guides are, you can still compare the prices in the books to get a relative idea of what's common and what's rare. Dishes that had relatively high prices back then will be even more rare and valuable today.
Jadite Identification & Price Guide, 4th Edition
We highly recommend getting yourself a copy of Joe Keller & David Ross's book:
Buy from Amazon: Jadite Identification & Price Guide, 4th Edition, 2014.
This book will give you a strong knowledge base to more confidently identify most of the vintage Jadeite you will see online and at antique stores, estate sales, Craigslist and Facebook Marketplace.
It also features hundreds of high quality pictures of Jadeite dishes which will help give you a visual guide of what authentic Jadeite dishes look like.
You will find just about every main piece of Jadeite manufactured by the three major producers: Anchor Hocking Fire-King, McKee and Jeannette. Each piece has been photographed and identified.  You will learn what patterns were produced by which company, which pieces are most valuable and other interesting collector notes.
A Collector's Guide to Anchor Hocking's Fire-King Glassware
And if you're looking for more information on what marks Anchor Hocking used on their Fire-King dishes throughout the years, be sure to buy the book by Gary & Dale Kilgo, Jerry and Gail Wilkins:
Buy from Amazon: A Collector's Guide to Anchor Hocking's Fire-King Glassware, 1991.
This book includes information on Jadeite, and other popular Fire-King dinnerware.
Anchor Hocking's Fire-King & More Identification & Value Guide
Another favorite Fire-King price guide of ours is a book by Gene Florence:
Buy from Amazon: Anchor Hocking's Fire-King & More Identification & Value Guide, 1998.
There are lots of high quality images of old Anchor Hocking advertisements, detailed photos of Fire-King dishes and their original packaging. Although the prices are now outdated, they are in an easy to read table format which makes it easy to see the rarest pieces based on their price.
Learn the Difference Between Fantasy and Reproduction Jadeite Dishes
Fantasy Jadeite Dishes
Fantasy pieces were never made originally. And a lot of new Jadeite dishes made today are fantasy pieces, not actual reproductions.
Take Martha Stewart's Jadeite covered turkey dish for example. This dish was manufactured from new molds for her line of Jadeite.
Anchor Hocking released several fantasy pieces with their reproduction FIre-King 2000 Jadeite Dish lineup including the 9" x 13" and 8" x 8" baking dishes.
Fortunately, the year 2000 pieces are easily distinguishable from the originals because they are clearly marked with 2000 on the bottom of the dishes.
Reproduction Jadeite Dishes
Reproductions are newly produced pieces of an original design.
An example of this is Jeannette Jadeite measuring cups. These measuring cups were originally made in the 1930s and have since been reproduced. The reproductions are very close to the originals, but you can shine a blacklight on them to be sure. If they glow, they are real.
Inspect the Graphics and Lettering
If the lettering or graphics on any piece of Jadeite just looks too pristine it can be an indication of a reproduction. If it's too good to be true for the price, it usually is.
This is not an absolute way of determining authenticity, especially if you happen to find a piece of Jadeite that was stored away forever and never used.  In that case, the print is obviously going to be in new condition. But generally speaking, lettering or other graphics that look too perfect and bold for their age is cause for suspicion.
Vintage graphics and lettering usually have some dullness and wear to them.
Some of the Jadeite shakers in our personal collection appear to have excellent condition lettering on them, but on closer inspection you can see tiny chips of paint and fading which shows their age.
Ask the Seller for More Details
If you're buying Jadeite Dishes from eBay or Etsy and the seller hasn't provided enough quality photos or information about their listing, contact them first for more pictures.
Sellers who care about positive feedback and repeat business will be happy to answer any questions you have.
Current Prices for Jadeite Dishes
If a seller seems hesitant, or can't answer your questions about the authenticity, your best bet is to wait and buy from someone else.
Beware of Mug and Shaker Fakers
It has been reported that some sellers are taking legitimately authentic vintage blank shakers (McKee was one company that produced blank shakers) and applying lettering or graphics on them to replicate original styles.
Apparently, the same thing is happening with mugs. eBay Sellers have taken plain Jadeite D-handle mugs and applied new decals to them so they look like advertising pieces from old diners and companies.
The best way to know for sure if a shaker is authentic is to reference one of the Jadeite collector books above and see if it exists there, and to check the graphics to see if they actually look vintage.
Learn How to Research Your Jadeite Dishes
Both reproduction and original Jadeite dishes can be unmarked which makes it difficult to identify them.
A lot of Jeannette Jadeite is unmarked, and there are plenty of pieces by Anchor Hocking that aren't marked either, such as Charm and Alice patterns.
Anchor Hocking produced some unmarked Jadeite for stores to use as special orders or promotional items.
Instead of a glassware mark, a gold foil sticker was added. These stickers are very desired and increase the value of Jadeite dishes.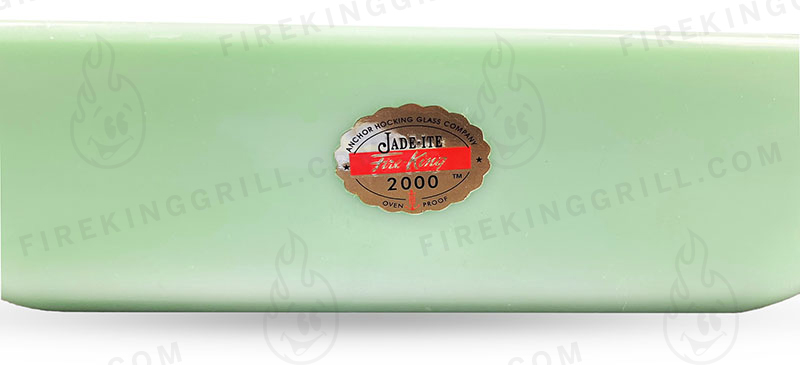 So if you're unsure how to identify a Jadeite dish, take a look at the list of reproduction companies below and use this research method to see what Jadeite glassware you have:
Let's say you have a Jadeite salt shaker, but it's unmarked, and you're not sure who made it, or if it's vintage or a reproduction.
You can use the list of companies below to do a Google image search and replace the company name with one below.
Go to Google Images. Google Images will search Pinterest, eBay, Etsy and other websites all at once.
Search for: "Jadeite Salt shaker" + "company name"
Replace "salt shaker" with the Jadeite dish you want to research.
Replace "company name" with a company from the list below.
Keep searching Google Images until you find one that looks like yours. Chances are someone else has listed it for sale before and you'll likely be able to find pictures, who made it, and what it's worth, even if your dish is unmarked.
Companies Who Made Vintage Jadeite Dishes
Anchor Hocking Fire-King
McKee
Jeannette
Companies Who Make Reproduction Jadeite Dishes
Anchor Hocking Fire-King (2000 Line)
At Home International
Country Living
Duralex
Farm-House Market
Gibson
Martha Stewart
Mosser
Pioneer Woman
Tablecraft
Westmoreland
Learn What Companies Make Jadeite Dish Reproductions
Adding reproduction Jadeite dishes to your collection is still a great way to spark joy – as long as you know you're buying a reproduction.
Here's a little bit more information about some of the well known Jadeite dish reproduction companies:
Anchor Hocking Fire-King 2000 Lineup
Both reproduction and fantasy Jadeite dishes were made by Anchor Hocking in the year 2000 to pay tribute to original Fire-King Jadeite dishes.
They will be clearly marked "Anchor Hocking Fire-King 2000" on the bottom of the dish. They may also have Jade-ite Fire-King 2000 foil stickers, or paper inserts as found in the 9" x 13" and 8" x 8" baking dishes.
There is quite a difference in size between the reproduction Fire-King batter bowl (left) and original Fire-King batter bowl (right).
At Home International
"At Home International" made new Jade glassware that could be purchased at Sears.
They made butter dishes, sugar bowls, creamers, bowls, plates, coffee mugs.
And even a pitcher that looks similar to the Fire-King Breakfast Set Milk Pitcher. The pitchers are easy to tell apart because of their markings. The reproduction will be clearly marked on the base: "At Home International Made in China".
Country Living
Reproduction and fantasy Jadeite dishes can still sell for a lot of money, and here's proof:
This fantasy piece, a Santa Clause Cookie Jar by Cracker Barrel and Country Living sells for $400-$500+ on eBay!
Duralex
French reproduction Jadeite dishes can also be found for sale. While most other reproductions are made in China, these ones are made in France.
Here is a Duralex teacup found on Etsy with the marking "Duralex, Made in France".
Farm-House Market
Farm-House Market Jadeite can be found for sale on Amazon. The salt and pepper shakers look similar to the McKee roman arch Jadeite shakers, but these ones are easy to identify because "The Farmhouse Market" is etched on them.
Gibson
Another big producer of reproduction Jadeite dishes is Gibson.
Gibson reproduced the ultra rare Fire-King Restaurant Ware swirl ball jug pitcher.
An authentic Fire-King pitcher in poor condition can sell for $400 to $1000+. Even a reproduction Gibson one can sell for $200.
The Gibson "90 oz titled pitcher" Made in China, came with a barcode sticker on the bottom of the pitcher, otherwise it is unmarked just like the real thing which can make it difficult to tell the real one apart from the reproduction.
Gibson also produced bowls in several sizes, as well as a 2-piece hen in a basket candy dish.
Martha Stewart
Martha Stewart has collaborated with companies like Fenton, Mosser and L.E. Smith to create her own line of Jadeite dishes. Different markings have been used on her Jadeite line, including "Martha by Mail", "MBM", and "F" for Fenton.
Reproduction Mosser Jadeite glassware can be found on her online store, including big and small cake plates, bowls, tumblers and dinner plates. https://martha.com/collections/jadeite
Mosser
Companies like Mosser have created some beautiful Jadeite fantasy pieces to go with any season and would compliment any vintage pieces you have. If you decorate for the holidays and put together tablescapes, check out their Jadeite figurines on eBay to complete your decor.
Mosser has created all sorts of fantasy pieces including seasonal pieces like a Jadeite pumpkin, bunny rabbit, christmas tree, ghost, and turkey figurines.
Check out eBay for a big selection of Mosser reproduction Jadeite glassware.
Pioneer Woman
Pioneer Woman reproduction Jadeite dishes can be found at department stores like Walmart, Target and online at Amazon.
One of the most popular pieces is the Pioneer Woman Jadeite cake stand with a glass dome lid. Even though this is a fantasy piece, this serving ware will do wonders to show off your baked goods. They can still be found for sale on eBay but usually go for more than they were sold in store.
Butter dishes, coffee mugs and plates can still be found in some Walmart stores.
Not all Pioneer Woman dishes are marked (like the cake stand), but the 3-piece Jade dinnerware set currently available at Walmart is marked "The Pioneer Woman, China, Dishwasher Safe, Not for Microwave or Oven Use".
Unlike the real thing, these Jadeite dishes are not ovenproof, and are made in China, not the USA.
Tablecraft
Tablecraft makes a variety of vintage diner themed Jadeite pieces that you can buy on Amazon, and were previously sold at department stores like Bed Bath and Beyond.
Pieces include syrup dispensers, shakers, straw dispensers, bowls, butter dishes, and plain and Coca-Cola themed Jadeite dishes.
Westmoreland
Westmoreland used original molds to reproduce this popular "Open Hands" Jadeite dish.
They also make a variety of interesting Jadeite dishes including a rooster in a nest candy dish, juice reamer, butterfly figurine, picnic basket and more which can all be found on eBay.
Some dishes are unmarked like the "Open Hands" dish, while others like the picnic basket have a "Westmoreland Hand Made Glass" foil sticker:
Conclusion
Once disregarded as junk glass by Depression Glass collectors, Jadeite dishes are now a nostalgic piece of American history. This antique glassware was built to last and brings back memories of comfort food and time with family friends at home, and at restaurants where Jadeite dishes were commonplace.
But with original Jadeite dishes from the 30s to 70s getting harder and harder to collect, companies like Mosser, Tablecraft and Pioneer Woman are looking for a way to bring back that familiar green glassware that was in everyday households across America from the 30s to the 70s.
You can find these reproduction and fantasy Jadeite dishes in department stores and on major online stores like Amazon, eBay and Etsy.
Reproduction Jadeite dishes are even starting to go up in value just like original dishes have. And new pieces are still a great way to fill out your collection and can be just as beautiful as the originals.
Whether you choose to invest in original or reproduction Jadeite dishes, we hope the tips in this guide have helped you to get the most out of your collection!
Have a question about Jadeite dishes? Let us know in the comments below!
Current Prices for Jadeite Dishes