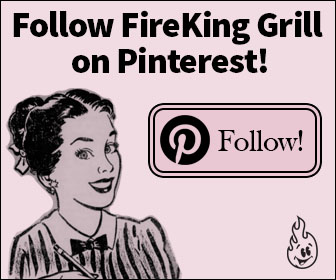 Intro
Learn how to transform your table into a stunning Jadeite dish tablescape in just 5 easy steps! 
In this beginner tutorial, Connie from FireKing Grill will show you how to use your Jadeite dishes and help you create your own tablescape for your next special occasion.
For more inspiration and to see some of Connie's Jadeite tablescape creations, be sure to follow FireKing Grill on Instagram, Facebook and Pinterest!
Creating an eye-catching tablescape is all about layering various elements that beautifully complement your Jadeite dishes. Let's explore some tips on how to achieve a truly stunning tablescape using your beloved Jadeite dishes.
Current Prices for Jadeite Dishes
1. Start with the Foundation
Every great tablescape begins with a solid foundation.
For a retro-inspired look, choose a tablecloth or table runner that complements the color palette of your Jadeite dishes.
Go shopping at thrift stores and look for cheap vintage-inspired patterns like gingham, polka dots, or playful florals.
Tablecloths and napkins with a soft pastel shade, such as mint green, pink, or baby blue, can also create a delightful backdrop and are perfect for any occasion.
2. Mix and Match Jadeite Dishes
First, create your menu plan and make a list of what food you'll be serving guests.
Then you can choose the dishes you'll need to start building your first place setting.
One of the charms of Jadeite dishes is the variety of patterns and dishes that are available.
In this tutorial, we're using a combination of vintage Fire-King Jane Ray dishes and new cake stands from Mosser and Pioneer Woman,, but feel free to use whatever dishes you have on hand.
To start, we're using a salad plate which can be used as an appetizer plate, and a soup bowl which can be used for soup or salad. For the main course we'll use a Jane Ray dinner plate.

For dessert, we're using a Jane Ray dessert bowl, cup and saucer for coffee.
If you're just starting your Jadeite dish collection you may only have enough dishes to create 1 or 2 place settings. That's ok! As you build your collection, you can set the whole table and invite even more guests over for your retro inspired meal!
Jane Ray Jadeite dishes are the perfect pattern to start your collection because they are affordable and easy to find.
How Much Are They Worth? See the Fire-King Jadeite Jane Ray Price Guide
Learn More: How to Identify the Fire-King Jadeite Jane Ray Pattern
3. Create Height with Stacked Plates and Stands
Now that we've got our place settings figured out, it's time to build the rest of the tablescape using some more of our Jadeite dishes.
For an added touch of elegance, you can place cake stands in the center of the table and display a few plates with delectable appetizers.
Here we're using a 10" Pioneer Woman Jadeite cake stand, and a Mosser 6" Jadeite cake stand. Using cake stands not only enhances the aesthetic appeal but also creates a focal point for your tablescape. These can be used to showcase an assortment of appetizers or hors d'oeuvres.
We're featuring a strawberry shortcake on one of the stands, and have stacked some Jane Ray cereal bowls in the other.
We're also using a 9×12" Jane Ray platter which can be used to serve more appetizers, or serve your main course from.
Current Prices for Jadeite Dishes
For candle holders that add a bit of height to our table, we're using four Breakfast Set egg cups that are the perfect size for tealights!
4. Introduce Textured Elements
Now that we've got our Jadeite dishes finalized, we'll bring them to life by adding some texture.
To complement your Jadeite dishes, consider adding textured elements such as woven placemats, embroidered napkins, or lace doilies. These details add depth and tactile interest, creating a multi-dimensional experience for your guests.
Decorative elements like vintage-inspired salt and pepper shakers, retro-inspired place card holders, or whimsical figurines can also add personality and charm to your overall design.
For layering our place setting, we're using a Villeroy and Boch white dinner plate. Vintage dishes are generally smaller than newer ones, so this dinner plate actually works as a charger!
The white and green napkins compliment our dishes perfectly. These came from the thrift store where there are plenty of vintage and colorful fabrics to choose from.
We've also added a green placement that compliments the dishes. Check out your local thrift stores and Dollar stores to find ones that would work with your Jadeite dishes.
The place card holders belonged to Connie's Great Grandma from the 1930s which ties into the family feel.
Read More: Why are Jadeite Dishes Popular?
The ribs on the placecard holder match perfectly with the Jane Ray patterned dishes. Talk about meant to be! If you have mementos or family heirlooms you can tie into your tablescape, this is the perfect opportunity to honor family. 
5. Add Floral Accents
Flowers are a classic element in tablescaping, and they work beautifully in a retro kitchen setting. You can incorporate fresh or fake flowers that complement the soft green tones of your jadeite dishes. Choose from dainty wildflowers, pastel-hued roses, or vibrant daisies. Place them in vintage-inspired vases or mason jars for a touch of rustic charm.
Here we're using some soft pink colored roses in three Fire-King Jadeite art deco vases. Check out your local dollar store for a variety of flowers, or take a walk in your neighborhood to pick some fresh ones.
These final flourishes are what's going to bring your tablescape to life.
There you have it – your Jadeite dish retro tablescape is complete!
Shop The Look and Learn More!
Here's where you can learn more about the dishes we used, with links to buy them on eBay:
Individual Place Setting:
Tableware
Conclusion
If you're new to collecting Jadeite dishes and creating tablescapes, this guide should make it easier to help you use your dishes and wow your guests at your next special occasion.
With a little creativity, you can achieve a truly captivating tablescape that celebrates the timeless elegance of your Jadeite dishes. There are no hard and fast rules when it comes to creating tablescapes, so have fun with it and allow yourself and your guests to be whisked away to a nostalgic era filled with beauty and charm!
Learn More: The Fire-King Jadeite Price & Identification Guide – Updated for 2023!
For more inspiration and to see some of Connie's Jadeite tablescape creations, be sure to follow FireKing Grill on Instagram, Facebook and Pinterest!
Current Prices for Jadeite Dishes