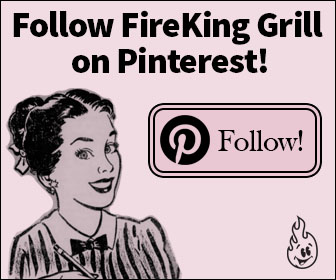 How to Identify the Fire-King Breakfast Set Design
The Breakfast Set shares several of the same pieces from the 1700 Line including the 9 ⅛" dinner plate, the St. Denis Cup, and St. Denis saucer.
The Jadeite dishes unique to the Breakfast Set are the egg cup, milk pitcher, and 5" cereal bowl.
Breakfast Set Jadeite dishes have a plain design and are thinner than heavy Restaurant Ware dishes.
The 16 oz 5" bowl is about ¼" taller and thinner with a wider flatter bottom compared to the standard 5" cereal bowl.
Decorated breakfast bowls with an ivy design have been spotted in the Breakfast Set as well, however these are extremely rare to find for sale.
Current Prices for Jadeite Dishes
Collector's Notes on Breakfast Set Fire-King Jadeite Dishes
You'll find the Breakfast Set difficult to collect because it had a short production run of only 2 years and there aren't many pieces in the set.
Even though the Restaurant Ware dinner plate is heavier and appears to be better made than the 1700 Line/Breakfast Set dinner plate, the 1700 Line/Breakfast Set dinner plate is worth more because there were not as many made.
The 5" cereal bowl is also hard to find, and we are still looking for one to complete our set.
Writing these articles takes some fuel, and let's be realistic; regular Jadeite cups are just not big enough for morning coffee. So we like to use the milk pitcher from the Breakfast Set for a good size portion instead!
The milk pitcher also comes decorated with beaded swirls and is much harder to find than the plain milk pitcher. It's referred to as the "Bead and Bar" pitcher by collectors.
In 1954, the 21-piece Heatproof Breakfast Set which included 4 cups, 4 saucers, 4 cereal bowls, 4 plates, 4 double egg cups and 1 milk pitcher, sold for $2.98!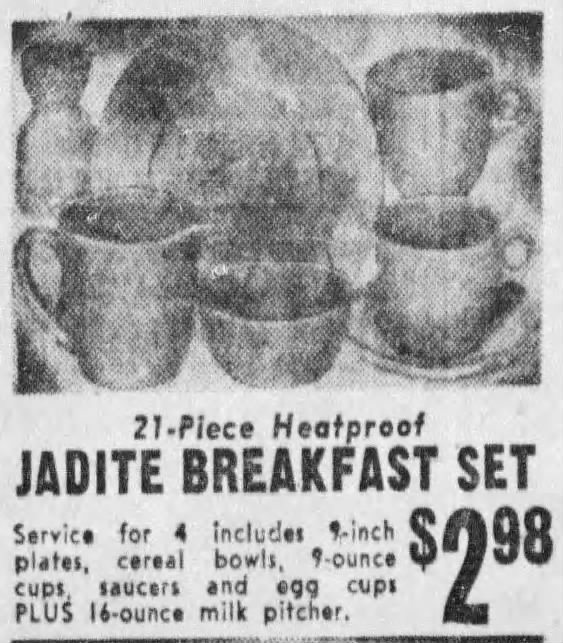 Years Made
The Breakfast Set had a very short production run of only two years and was made from 1954-1956.
Learn More: The History of Jadeite Dishes
Learn More: The History of Fire-King Anchor Hocking (Part 1 of 4)
Other Colors
Some Breakfast Set dishes can be found a few different colors and patterns. The rest of the set including the egg cup, St Denis cup and saucer, and dinner plate can be found in Jadeite.
Milk Pitchers:
Jadeite
Crystal
Peach lustre
5″ Cereal Bowls:
Jadeite
Azur-ite (light blue)
Peach lustre
Ivory with green ivy design around the border
Azur-ite with red ivy design around the border
Jade-ite with red ivy design around the border
Fire-King Markings for Breakfast Set Jadeite Dishes
Look for these markings on the back of Breakfast Set Jadeite dishes. The egg cups will not be marked.
OVEN Fire-King GLASS
OVEN Fire-King WARE
OVEN Fire-King WARE MADE IN U.S.A
Learn More: How to Identify Fire-King Jadeite Dish Markings
Fire-King Breakfast Set Dishes Made in Jadeite
Pieces to Collect:
Research Sources
Learn more about Jadeite dishes with these collector guides, available on Amazon:
Florence, Gene. Anchor Hocking's Fire-King & More: Identification & Value Guide including Early American Prescut and Wexford. Collector Books, 1998.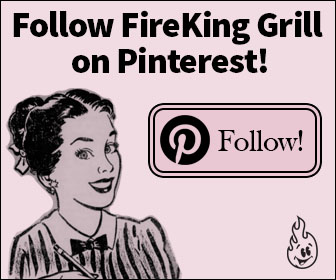 Ross, David, and Joe Keller. Jadite: An Identification & Price Guide. Schiffer Publishing, Limited, 2014.
Wilkins, Jerry, et al. A Collector's Guide to Anchor Hocking's "Fire-King" Glassware.
K & W Collectibles, 1991 Mauzy, Barbara E. Mauzy's Depression Glass: A Photographic Reference with Prices. Edited by Barbara E. Mauzy and Jim Mauzy, Schiffer Publishing, Limited, 1999
Current Prices for Jadeite Dishes
Current Prices for Jadeite Dishes