Introduction
In this post, you'll learn how to identify FireKing Jadeite markings. For FireKing Jadeite collectors and sellers this is crucial to identify when your dishes were made, and if they are authentic original dishes. Anchor Hocking used a number of different markings during its production run which indicate when they were produced. You just need to know what to look for.
Anchor Hocking has removed a lot of the information on their website about their heritage, which is disappointing. This in part, has resulted in a lot of conflicting information and misrepresentation regarding Fire-King dishes. After a lot of research, and thanks to some excellent books on Fire-King, we put together this post to educate ourselves, and Jadeite collectors like yourself on what to look for.
Current Prices for Jadeite Dishes
Key Dates for Identifying Fire-King Jadeite Dishes
1945-1948: The first year Fire-King Jade-ite was first produced. The earliest pieces had all block letter markings.
1948: The Fire-King logo was added to the marking.
1951: The "MADE IN THE U.S.A" stamp and mold numbers on some patterns were added to the marking.
1962: The Anchor Hocking corporate logo was added to the markings.
1960s: The Fire-King mark started to be phased out.
1974: The last year of production for original Anchor Hocking Jade-ite dishes.
2000: Anchor Hocking Fire-King Jade-ite reproductions were made for a limited time and include the year "2000" in the marking.
Unmarked: Some Jadeite dishes from the 40s and 50s were unmarked, like the Alice and Charm patterns.
Learn More: The History of Jadeite Dishes
1945-1948: Jadeite Pieces Debut with Block Letter Markings
If your dishes have one of these markings, that means they were some of the earliest Fire-King Jadeite dishes produced from 1945-1948:
OVEN FIRE-KING GLASS
OVEN FIRE-KING WARE
FIRE-KING OVEN GLASS
Anchor Hocking logo with the anchor
These early pieces have a higher collector value than newer pieces.
The Fire-King script logo we know today didn't make an appearance until 1948.
The simplest "FIRE-KING" mark was used on the earliest pieces of Fire-King in the early 1940's, as seen with the Philbe Sapphire Blue Pie Plate pictured below. However, we have not seen this isolated mark used on Jadeite.
Seller's Tip: If your Jadeite marking has all "block letters", include those keywords in your listing title. This is a keyphrase potential buyers use to search for the earliest pieces of Fire-King Jadeite made in the 1940's.
Learn More: FireKing Jadeite Price Guide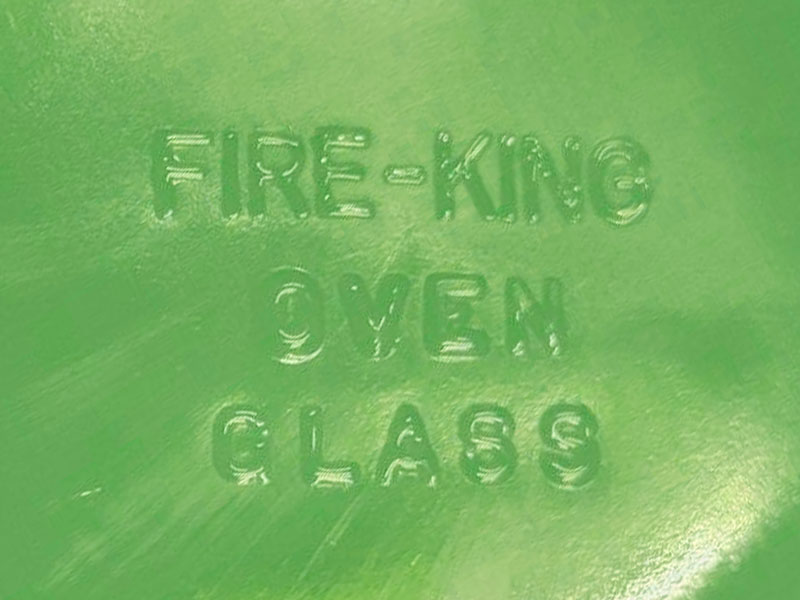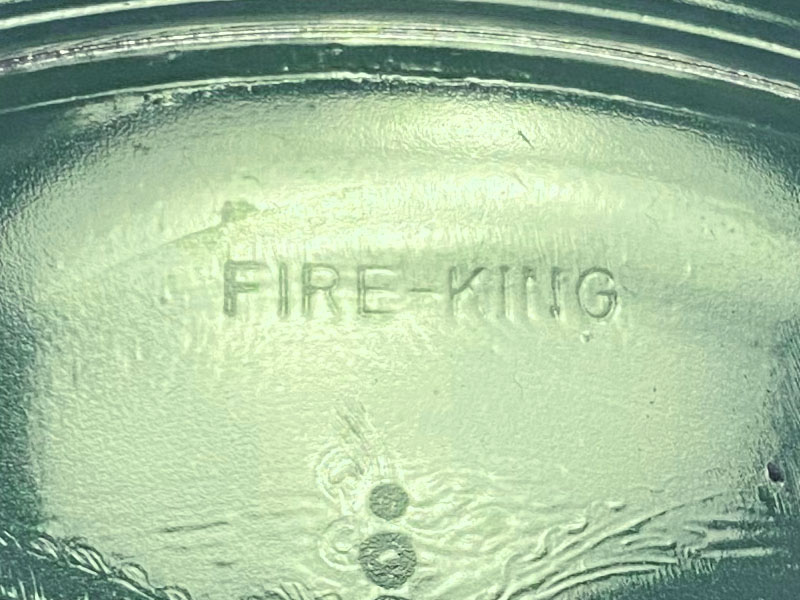 1948-1950: The Fire-King Logo Gets Introduced
In 1948, the Fire-King script logo we recognize today started to be used on Jadeite  markings and was used until Anchor Hocking stopped producing Jadeite in 1974.
Anchor Hocking trade-marked and registered the Fire-King name in 1941.
In 1948, the Fire-King logo we know today was trademarked. The logo became a Registered Trademark in 1950.
From 1948-1950 when the Fire-King logo was first introduced, the marks were still quite simple.
If your Fire-King Jadeite dishes either read:
OVEN Fire-King GLASS
OVEN Fire-King WARE
Fire-King OVEN GLASS
Using the script logo, with no other markings, that means they were produced from 1948-1950.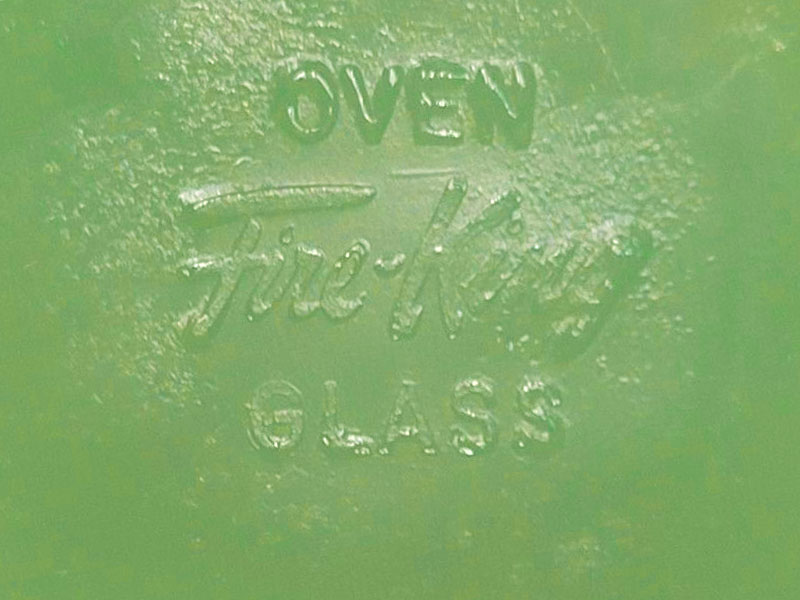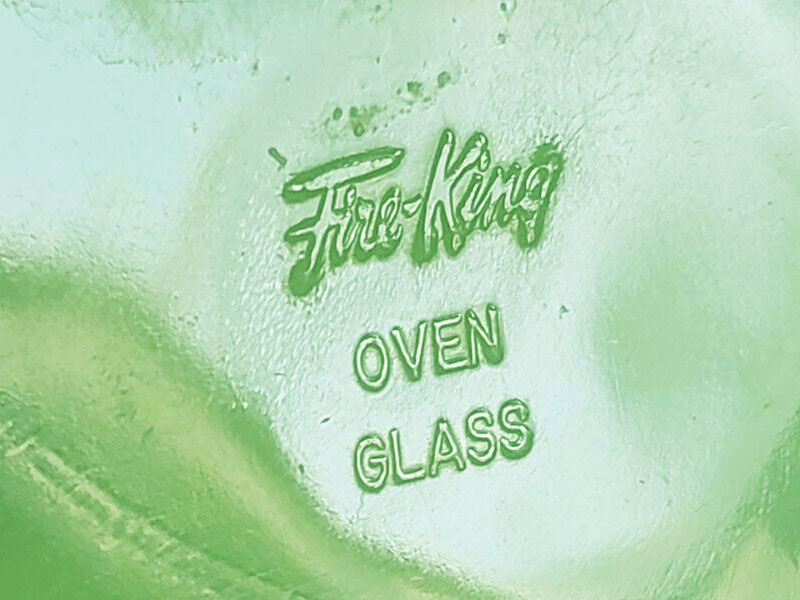 1951-1961: The "MADE IN THE U.S.A" Stamp is Added
It's quite common to see Fire-King Jadeite misrepresented on eBay and Etsy as being produced in the 1940s. But "MADE IN THE U.S.A." wasn't added to the Fire-King mark until 1951. (Wiggins)
Mold & Piece Numbers are Added to some Patterns
During this time, mold numbers were also added to some pieces. Mold numbers have little relevance, and do not add value for collectors. (JB Beans)
In some cases you may see two sets of numbers on a Fire-King Jadeite marking.
Current Prices for Jadeite Dishes
The top number identifies what piece it is. The middle number between Fire-King and MADE IN U.S.A identifies the mold number. (Wilkins et al. 81).
You might also see a different number of dots associated with the mark, but they are just part of the mold and have no relevance either.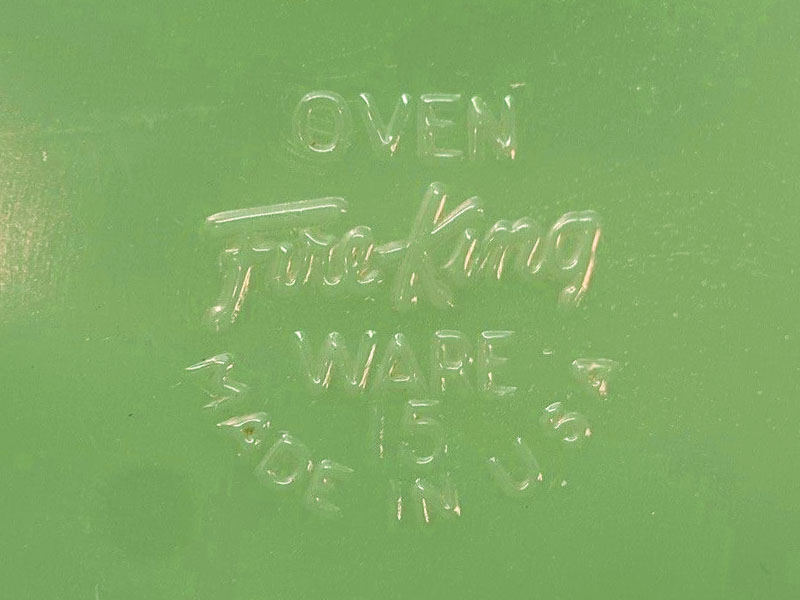 1962-1974: The Anchor Hocking Corporate Logo Gets Added
The markings are starting to look a lot busier than the early years now. A good rule of thumb is: the more going on with the marking, the newer the piece is.
In 1962, the "Anchor Hocking" logo and wordmark was added to the markings, with the Fire-King Sheaves of Wheat Dinnerware pattern as the first to receive the updated marking.
The Anchor Hocking logo of this era featured the "H" over the anchor.
If your Jadeite dishes have the Anchor Hocking logo in the mark, they were produced from 1962-1974 – unless the mark also includes "2000", in which case they were produced in the year 2000.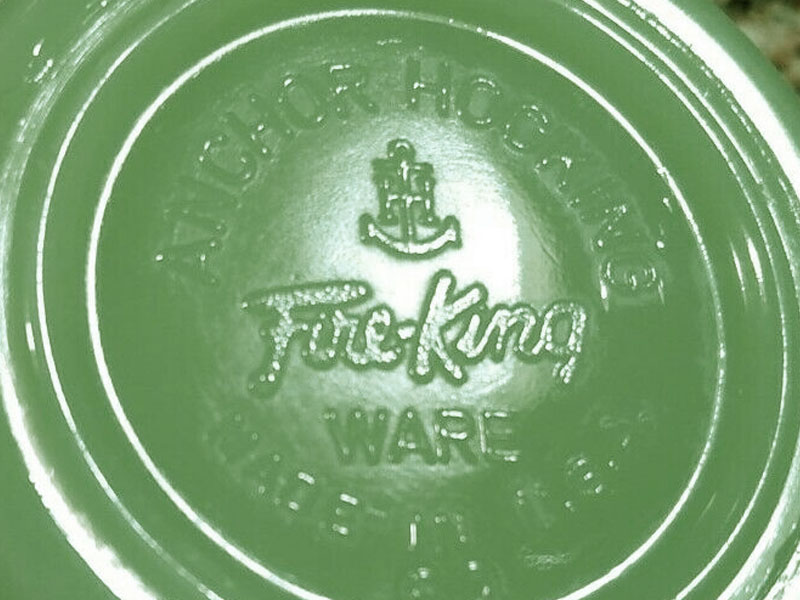 Get Inspired: 5 Tips for Entertaining with Vintage Pyrex and Jadeite Dishes
Sometime in the 1960s the Fire-King mark disappeared all together. "OVEN PROOF" also changed to "HEAT RESISTANT" on some marks, like on the back of this Shell pattern dinner plate.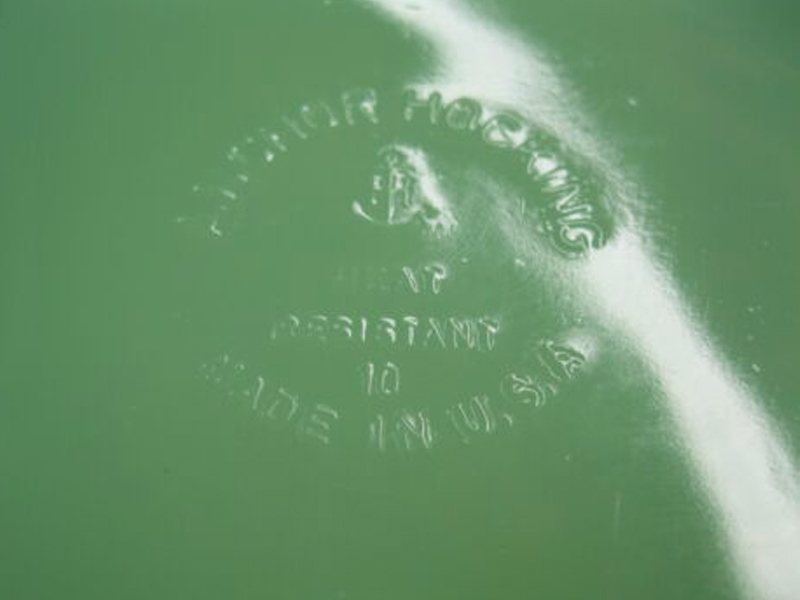 1974: Fire-King Jadeite Production Stops and Signals an End of an Era
1974 was the last year Anchor Hocking produced original Jadeite dishes before their resurrection in 2000.
In the 1960s, the use of the Fire-King marking started to be phased out (Wilkins et al. 63), and Anchor Hocking stopped using the Fire-King trademark altogether in 1976 for its crystal ovenware line. (Wilkins et al. #93)
At this time the Anchor Hocking logo also changed from the anchor over the "H" logo to the anchor inside a rounded square. (Wilkins et al. 93).
Did You Know? Jade-ite Restaurant Ware had the longest production run from 1948-1974 (Wilkins et al. 35) and features almost every variation of the Fire-King marking.
Jadeite D-handle mugs and cereal bowls were produced up until 1974 and were  some of the last original patterns of Jadeite dishes to be produced.
2000: Anchor Hocking Reproductions Celebrate the Past
In 2000, Anchor Hocking produced some reproduction and fantasy Jadeite pieces to pay homage to the originals, which included batter bowls, casserole dishes, and baking pans. These pieces are clearly marked "2000" on the bottom, as to not be confused with original pieces.
Anchor Hocking only produced the 2000 pieces for a limited time, but were recalled due to quality issues. 2000 line Jadeite dishes were made in Brazil, as you can see with the sticker barcode label:
They've continued to climb in value and collectors still seek them out. They are perfect for everyday use and just as beautiful as the originals at a fraction of the cost. So even though they have gone up in value, they're still a relative bargain if you can find them.
Some pieces even have foil sticker labels that also indicate they were made in the year 2000 which add collector value to the dish.
We've seen appearances of the Fire-King logo with the 2000 line from Anchor Hocking, as well as on liquid measuring cups.
New Fire-King branded measuring cups can be found on Amazon and grocery stores.
Otherwise, Anchor Hocking has kept quiet about the fascinating history of their Fire-King line, and only offers an underwhelming selection of new Fire-King products on their website.
Fire-King Jade-ite with Foil Labels
Some pieces had embossed markings, as well as foil sticker labels on the front. These dishes are hard to find with the original labels and add a lot of extra value for collectors.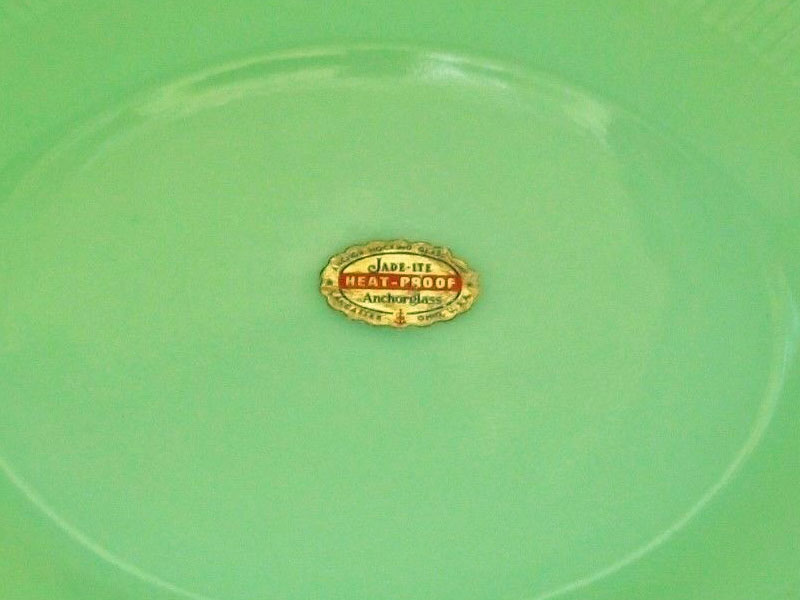 Foil labels can also be found on the 2000 reproductions.
Is All Fire-King Jade-ite Marked?
Most Jadeite Fire-King pieces were marked – but not all. If you don't see any markings on your Jadeite, it could mean 3 things:
It's an unmarked authentic Fire-King Jadeite dish, and may have had a foil label when it was sold new.
It may be another brand of Jade-ite such as Jeannette or McKee. Those dishes will glow under a blacklight. You can use a U/V blacklight flashlight to confirm if they are real. Fire-King dishes do not glow.
It's a reproduction. If you are still unsure whether your Jadeite dish in question is real or a reproduction, it's best to pass.
Learn More: Spooky Stuff! These Jadeite Dishes Glow Under a Black Light
Conclusion
As you can see, there are a lot of different marks that were used to identify FireKing Jadeite. Knowing what to look for with each mark can help you to identify when each piece was made, and make sure you are buying authentic Jadeite dishes.
If you want to learn even more about what trademarks were used on other Fire-King pieces beside Jadeite, check out the book "A Collector's Guide to Anchor Hocking's Fire-King Glassware, 1991 Edition", available on Amazon and eBay.
We are always learning too, and appreciate any feedback you have about how we can improve this article.
Have you seen any interesting Fire-King Jadeite marks that aren't mentioned here? Let us know in the comments below!
Current Prices for Jadeite Dishes