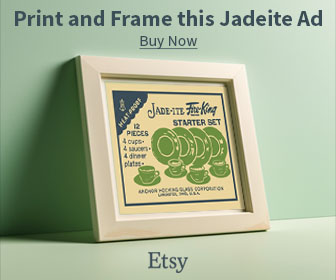 How to Identify the Fire-King 2000 Reproduction Design
2000 Jadeite dishes can be easily identified by their backstamp, foil stickers, paper inserts, or barcode stickers.
To identify 2000 Anchor Hocking Fire-King reproduction Jadeite dishes, look for "2000" on the labels or backstamps.
These are authentic reproductions made by Anchor Hocking Fire-King in the year 2000, in tribute to original vintage Jadeite dishes made in the 1940s to 1970s.
Current Prices for Jadeite Dishes
Collector's Notes on 2000 Reproduction Fire-King Jadeite Dishes
Once disregarded by depression glass and antique collectors, Jadeite dishes became popular with collectors in the 1990s.
Dishes that were once sold for pennies in the 40s, 50s and 60s, or given away for free with purchase, now had people scouring their cupboards looking to resell their dishes for hundreds or thousands of dollars.
So what caused the new found demand for Jadeite dishes?
Martha Stewart helped Jadeite dishes become popular as her beautiful collection was showcased on her cooking show Martha Stewart Living. Collectors might tell you it's not such a good thing that Martha brought new life to these old dishes, as more and more people hopped on the Jadeite bandwagon to cash in.
Martha even created her own line of reproduction Jadeite dishes in collaboration with Mosser Glass.
Visit Martha's Website: Buy Martha Stewart Mosser Glass Jadeite Dishes
National news coverage followed with reports that those everyday Jadeite dishes in Grandma's cupboard were now worth money.
Soon, Jadeite dishes were swept away from thrift stores and garage sales at bargain prices and were listed on the new online auction marketplace, eBay, at record prices.
In the late 1990s, eBay took the world by storm and allowed people to buy and sell pretty much anything online. Once people started selling their Jadeite dishes online and people saw how much they were going for, collectors started to take Jadeite dishes seriously.
Jadeite dishes can still be found in antique stores and online today, but harder to find pieces are quickly disappearing into private collections. Some common dishes could still be bought for a relative good deal at $5 to $20 a piece. Other dishes could go for $50 to $100. Meanwhile rare Jadeite glassware can easily go for hundreds or thousands of dollars.
This snowballed into multiple companies reproducing Jadeite dishes, including Anchor Hocking Fire-King with their 2000 line, Martha by Mail, by Martha Stewart, Mosser, Tablecraft and more.
Today, vintage Anchor Hocking Fire-King, McKee and Jeannette Jadeite dishes continue to climb in price 20+ years later after their resurgence. Even Anchor Hocking Fire-King's 2000 Jadeite dishes are now considered vintage and continue to go up in value, sometimes going for as much as vintage Jadeite dishes.
Years Made
Anchor Hocking Fire-King 2000 Jadeite dishes were only made in the year 2000.
Learn More: The History of Jadeite Dishes
Learn More: The History of Fire-King Anchor Hocking (Part 1 of 4)
Other Colors
Anchor Hocking Fire-King 2000 dishes were only made in Jadeite. Other colors were not reproduced as part of the comeback.
Fire-King Markings for 2000 Reproduction Jadeite Dishes
There are several ways to identify 2000 reproduction Jadeite dishes made by Anchor Hocking Fire-King. First is the backstamp on the dishes themselves. The marking will read: "ANCHOR HOCKING [logo] Fire-King 2000". The 2000 will be clearly visible and the easiest way to know your dish was made in 2000.
If dishes are in new condition, they may also have a foil stamp: "ANCHOR HOCKING GLASS COMPANY JADE-ITE Fire-King 2000 Oven Proof". Vintage Jadeite dishes also had very similar foil stamps, but the difference is, the reproductions will have "2000" on them.
Current Prices for Jadeite Dishes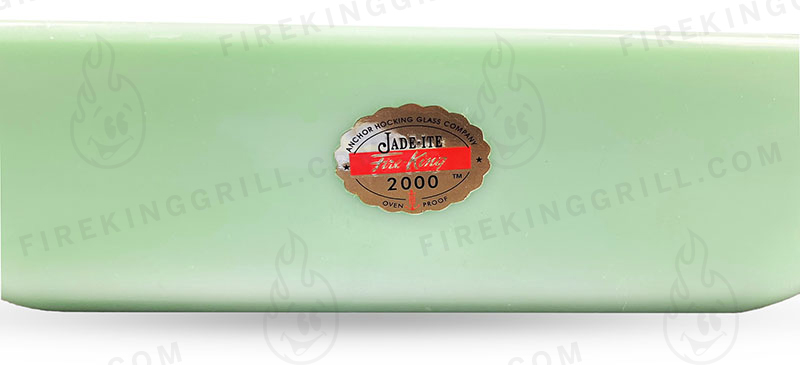 Vintage Jadeite dishes were made in the USA. Dishes in the 1950s onwards started to include the "MADE IN THE USA" on the marking.
2000 reproduction dishes were made in Brazil, and are not so proudly represented. There are claims of quality control issues which stopped production short. On new condition dishes you'll find a standard barcode sticker that says "Anchor Hocking Company MADE IN BRAZIL".
The pie plate, 9×13 baking pan, and 8×8 baking pans have paper insert advertising lightly adhered to the dishes by a glue dot. The reproduction batter bowl also features the same style advertisement, but as a sticker on the outside of the bowl.
Learn More: How to Identify Fire-King Jadeite Dish Markings
Fire-King 2000 Reproduction Dishes Made in Jadeite
Here are all the reproduction Jadeite dishes that were made in 2000 by Anchor Hocking Fire-King:
D-handle mug
5 ¾" swirl mixing bowl
7 ¾" swirl mixing bowl
8 ¾" swirl mixing bowl
9" x 13" baking dish
Covered casserole dish
8" x 8" baking dish
10" pie plate
2.5 qt batter bowl
Dinner plate
7 3/4" 1.5qt mixing bowl
9" 2.5qt mixing bowl
10" 3.5qt mixing bowl
Research Sources
Learn more about Jadeite dishes with these collector guides, available on Amazon:
Florence, Gene. Anchor Hocking's Fire-King & More: Identification & Value Guide including Early American Prescut and Wexford. Collector Books, 1998.
Ross, David, and Joe Keller. Jadite: An Identification & Price Guide. Schiffer Publishing, Limited, 2014.
Wilkins, Jerry, et al. A Collector's Guide to Anchor Hocking's "Fire-King" Glassware. K & W Collectibles, 1991
Mauzy, Barbara E. Mauzy's Depression Glass: A Photographic Reference with Prices. Edited by Barbara E. Mauzy and Jim Mauzy, Schiffer Publishing, Limited, 1999
Current Prices for Jadeite Dishes