Do you have a Fire-King Jadeite dish collection you're looking to learn more about?
Whether you're looking to buy, sell or just learn more about your collection, this guide will help you learn more about Anchor Hocking Fire-King Jadeite dish patterns.
Fire-King Jadeite Dish Pattern Guides
Here are the Fire-King Jadeite dish patterns you can learn more about with our guides:
Current Prices for Jadeite Dishes
Here's What You'll Learn
Below is a summary for each major Jadeite dish pattern. To learn more about each pattern, just click on the links below to get these details:
Name and descriptions of each pattern
How rare each pattern is
Collector value
Rare pieces
Photos of original newspaper ads
Photos of Jadeite dishes
Years made
Other colors produced
Fire-King markings
Dishes made in Jadeite for each pattern
The 1700 Line can be confusing to identify because it shares characteristics with other Jadeite dish patterns such as Restaurant Ware and Jane Ray.
The St. Denis cup, St. Denis saucer, and the 9 ¼" dinner plate of the 1700 Line are also part of the Breakfast Set, so that's why you'll often see these two patterns mentioned together.
Learn More: How to Identify 1700 Line Jadeite Dishes
To identify 2000 Anchor Hocking Fire-King reproduction Jadeite dishes, look for "2000" on the labels or backstamps.
These are authentic reproductions made by Anchor Hocking Fire-King in the year 2000, in tribute to original vintage Jadeite dishes made in the 1940s to 1970s.
Learn More: 2000 (Anchor Hocking Fire-King Reproduction)
In 1945, Anchor Hocking introduced "Alice" as the first Fire-King Jadeite dish pattern ever made.
The outer ridge of the Alice Jadeite dinner plates and saucers have a small notched border, followed by a beautiful repeating floral design.
Learn More: Alice Jadeite Dishes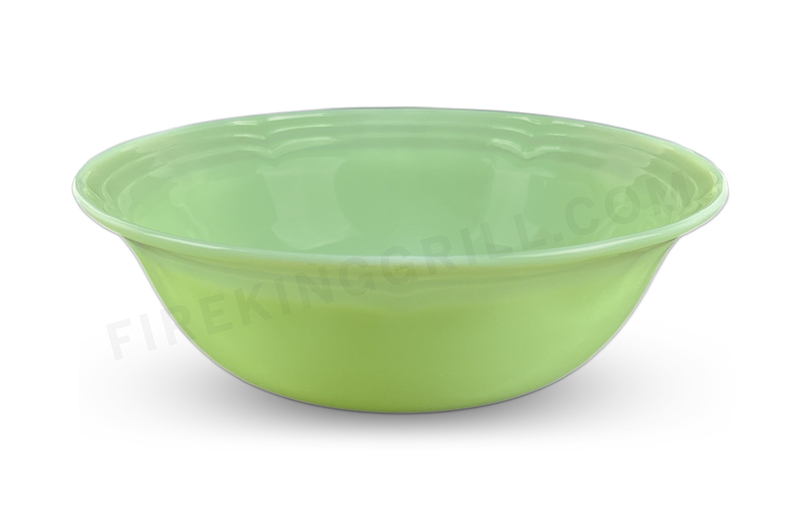 "Banded" Fire-King Jadeite dishes came in One Band, Two Bands or Three Bands.
Banded is not the official name for this pattern; it's a description given by collectors.
The One Band cup and saucer are the rarest pieces to find in this pattern, as well as the Three Band dinner plate. However, any Banded Jadeite dishes seem extremely hard to find in Jadeite. You'll find this pattern easier to collect in Ivory, Burgundy/Maroon and Peach Lustre.
Learn More: Banded Jadeite Dishes
The Breakfast Set shares several of the same pieces from the 1700 Line including the 9 ⅛" dinner plate, the St. Denis Cup, and St. Denis saucer.
Breakfast Set Jadeite dishes have a plain design and are thinner than heavy Restaurant Ware dishes.
Learn More: Breakfast Set Jadeite Dishes
Charm is the only square shaped pattern of Jadeite dishes and is easy to identify. Charm's timeless design makes them very desired by collectors, and pricier than other Jadeite patterns.
Charm Jadeite dishes were only produced for 4 or 6 years. Compared to the long run of other patterns like Jane Ray (18 years), the short production time for this pattern makes it harder to find.
Learn More: Charm Jadeite Dishes
Jane Ray is the most common pattern of Jadeite dishes found.
You'll find this pattern most often at antique stores and even garage sales, making it the perfect pattern for new Jadeite collectors to look for with relative success.
Jane Ray Jadeite dishes have a rayed border design and a plain center. The same rayed design can be found on its sister pattern: "Alice".
Learn More: Jane Ray Jadeite Dishes
Fire-King Jadeite Philbe ovenware dishes can be identified by their embossed floral pattern.
Due to its age, rarity and lovely embossed design, the Fire-King Philbe pattern is very desired by collectors in Jadeite and all other colors.
As it was one of the earliest Fire-King Jadeite patterns produced, Philbe dishes do not have the Anchor Hocking or Fire-King marks.
Learn More: Philbe Jadeite Dishes
Fire King Grill's personal favorite: Restaurant Ware!
Restaurant Ware Jadeite dishes are undecorated and have a clean, timeless appearance.
Affordable, durable, and its cheery green color made these Jadeite dishes a success coming out of the Great Depression.
Jade-ite Fire-King Restaurant Ware was widely used in restaurants, hotels, hospitals and other mass-feeding establishments."
Learn More: Restaurant Ware Jadeite Dishes
Jadeite dishes with the Sheaves of Wheat pattern are easy to identify. They are decorated with a wheat design around the border of the plates, and the outside of the bowl and cup.
With such a short production time of only 2 years, Sheaves of Wheat Jadeite dishes are difficult to come by and highly desired by collectors.
When they do come up for sale, the saucers and dinner plates are the most common, followed by the berry/dessert bowl.
Learn More: Sheaves of Wheat Jadeite Dishes
Fire-King "Shell" looks similar to the Swirl pattern, but the way to tell the difference is to feel the edge of the plates.
Shell plates have a scalloped edge when you run your hand around the edge of the plate, and a more dramatic shell pattern embossing.
The Shell pattern was originally advertised as a "Swirled English Regency" style by Fire-King Anchor Hocking. "Shell" is just the name given by collectors.
Learn More: Shell Jadeite Dishes
The edge of Swirl plates will be smooth. Shell plates have a scalloped edge.
The difference is obvious enough you can tell them apart in person, and in pictures online. The swirl pattern is also on the border of the back of the dinner plates. The saucers have undecorated backs.
Collecting Swirl Jadeite dinnerware will be a challenge as they do not often come up for sale.
Learn More: Swirl Jadeite Dishes
Conclusion
We hope this guide to Jadeite dish dinnerware patterns has helped you identify your collection.
Be sure to check eBay and Etsy often, as those are your bet to buy hard to find Jadeite dishes. Be patient though, some harder to find Jadeite dishes only come up for sale a couple times a year and there will likely be competition from other buyers.
Jadeite dishes are disappearing into private collections and getting increasingly hard to find, so be sure to add these dishes to your collection when you get the chance.
And if you're looking for even more knowledge on collecting vintage Jadeite dishes, be sure to check out our other articles as well:
Learn More: How to Identify Fire-King Jadeite Glassware Markings
Current Prices for Jadeite Dishes
Learn More: The History of Jadeite Dishes
Learn More: How to Care for Jadeite Dishes
Learn More: Do Jadeite Dishes Glow in the Dark?
Current Prices for Jadeite Dishes