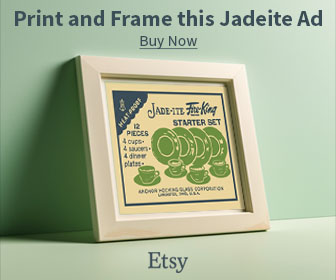 How to Identify the Fire-King Shell Design
Fire-King "Shell" looks similar to the Swirl pattern, but the way to tell the difference is to feel the edge of the plates.
Shell plates have a scalloped edge when you run your hand around the edge of the plate, and a more dramatic shell pattern embossing.
Swirl plates feature a similar wavy border design but the edge of the plate will be smooth.
The cups have raised notches near the top and middle of the handles.
Current Prices for Jadeite Dishes
Collector's Notes on Shell Fire-King Jadeite Dishes
The Shell pattern was originally advertised as a "Swirled English Regency" style by Fire-King Anchor Hocking. "Shell" is just the name given by collectors.
Fire-King Shell Jadeite dishes can still be found for sale on eBay and Etsy. They are harder to collect than Jane Ray, but easier to find than Sheaves of Wheat.
The Shell pattern was sold as open stock, and in 12 and 45-piece sets.
Open stock dishes were individual dishes that could be bought to replace or add more pieces to a set.
Customers could purchase salad plates, bowls, and platters separately to complete their starter set – but most didn't. As a result, collectors will find these dishes very hard to find.
The 8 ½" oval Shell vegetable bowl and the 9 ½" x 13" oval Shell platter are extremely rare.
Current Prices for Jadeite Dishes
The sugar dish and cover in Jadeite are also difficult to find in good shape.
Years Made
Fire-King's Shell dishes in Jadeite were made from 1963-1967.
Learn More: The History of Jadeite Dishes
Learn More: The History of Fire-King Anchor Hocking (Part 1 of 4)
Other Colors
Along with Jadeite, Shell could be purchased in:
Milk white
Milk white with gold trim
Gold
Peach lustre
Mother-of-pearl
Mother-of-Pearl dishes are made of iridized glass; a thin metallic coating on the surface which gives it that pearl look.
Shell dishes in milk white with gold trim are plated with real 22k gold. They are not microwave safe.
Learn More: How to Care for Jadeite Dishes
Some Shell dishes even featured hand painted designs of landmarks like the New York World Fair, or animals.
Pictured below is a Shell plate with gold trim and an Eagle design.
Fire-King Markings for Shell Jadeite Dishes
Anchor Hocking stopped using the Fire-King mark on its dishes sometime in the 1960s. Possible markings for Shell Jadeite dishes include:
ANCHOR HOCKING [logo] Fire-King WARE MADE IN U.S.A.
ANCHOR HOCKING [logo] Fire-King dinnerware [mold number] MADE IN U.S.A.
ANCHOR HOCKING [logo] Fire-King OVEN-PROOF [mold #] MADE IN U.S.A.
ANCHOR HOCKING [logo] Suburbia OVEN-PROOF [mold #] MADE IN U.S.A.
ANCHOR HOCKING [logo] HEAT RESISTANT [mold #] MADE IN U.S.A.
The Anchor Hocking logo featured the "H" over the anchor.
Mold numbers do not add value.
As you can see, markings on later Jadeite dishes got more complex as time went on. Markings on original Jadeite dishes from the 1940s was simply "FIRE-KING".
Learn More: How to Identify Fire-King Jadeite Dish Markings
Fire-King Shell Dishes Made in Jadeite
Here are all the Fire-King Shell dishes you can collect in Jadeite: Bowls:
4 ¾" dessert bowl
6 ⅜" cereal/soup bowl
7 ⅝" soup plate
8 ½" oval vegetable bowl
8 ½" round vegetable bowl
Cups:
Plates:
5 ¾" saucer
7 ¼" salad plate
10" dinner plate
Servingware:
9 ½" x 13" platter
Sugar dish with lid
Creamer
Candy dish
Sets:
12-piece starter set: 4 cups, 4 saucers, 4 dinner plates
45-piece set with: 8 cups, 8 saucers, 8 dessert plates, 8 soup bowls, 8 dinner plates, vegetable bowl, platter, sugar dish with cover, and creamer.
[wpcode id="10617″] We found conflicting information on whether a Shell Demitasse cup and saucer can be found in Jadeite. They do exist in other colors.
Research Sources
Learn more about Jadeite dishes with these collector guides, available on Amazon:
Florence, Gene. Anchor Hocking's Fire-King & More: Identification & Value Guide including Early American Prescut and Wexford. Collector Books, 1998.
Ross, David, and Joe Keller. Jadite: An Identification & Price Guide. Schiffer Publishing, Limited, 2014.
Wilkins, Jerry, et al. A Collector's Guide to Anchor Hocking's "Fire-King" Glassware. K & W Collectibles, 1991
Mauzy, Barbara E. Mauzy's Depression Glass: A Photographic Reference with Prices. Edited by Barbara E. Mauzy and Jim Mauzy, Schiffer Publishing, Limited, 1999
Current Prices for Jadeite Dishes