Banded Jadeite Dishes: How to Identify this Fire-King Pattern
Identifying the Fire-King Jadeite Banded Design
"Banded" Fire-King Jadeite dishes came in One Band, Two Bands or Three Bands.
Banded is not the official name for this pattern; it's a description given by collectors.
The Bands vary in their design, however they're all considered the same pattern by collectors.
Scalloped bands can be found on the:
One Band cup
One Band saucer
Two Band chili bowl
[wpcode id="10617″] This is a low quality image. We are working on finding a better one.
Current Prices for Jadeite Dishes
Three bands around the inside ridge with pointed accents can be found on the:
Three Band vegetable bowl
Three Band dinner plate
[wpcode id="10617″] Three Band cup?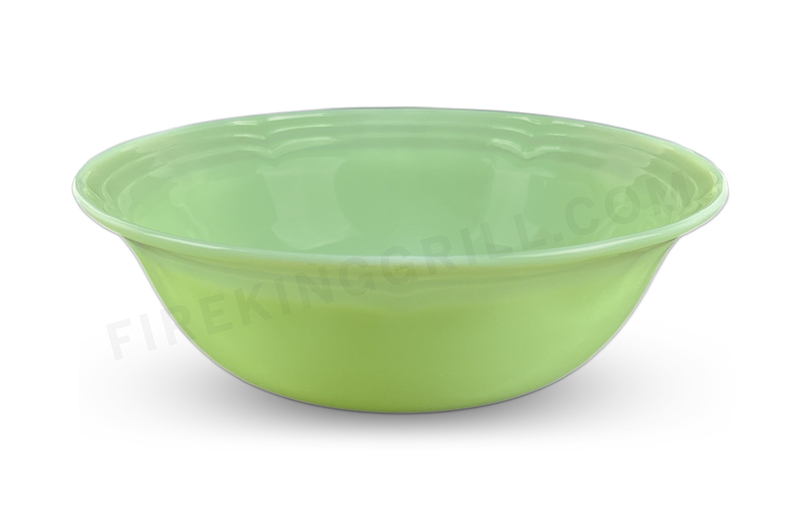 Current Prices for Jadeite Dishes
Collector's Notes on Banded Fire-King Jadeite Dishes
The One Band cup and saucer are the rarest pieces to find in this pattern, as well as the Three Band dinner plate. However, any Banded Jadeite dishes seem extremely hard to find in Jadeite. You'll find this pattern easier to collect in Ivory, Burgundy/Maroon and Peach Lustre.
We've seen sellers incorrectly list Colonial mixing bowls and Colonial Batter Bowls as "Banded" bowls on eBay. Although the Colonial bowl and Batter Bowls do have a band around the outside top of the bowl, they are not part of the Banded pattern. The only bowls to collect in the Banded pattern are the chili bowl and vegetable bowl.
We have been collecting for 10+ years and have only acquired the Three Band vegetable bowl in this pattern for our collection. As of writing this, there is only one for sale on eBay currently.
If you are motivated to collect this pattern, we recommend setting up a Saved Search on eBay to receive email alerts of new listings, as some Jadeite dishes in this set do not come up for sale very often.
Years Made
Banded Jadeite dishes were made from 1952-1956.
Learn More: The History of Jadeite Dishes
Learn More: The History of Fire-King Anchor Hocking (Part 1 of 4)
Other Colors
Banded Fire-King dishes were also made in these colors along with Jadeite:
Burgundy
Ivory
Peach Lustre
Fire-King Markings for Banded Jadeite Dishes
Banded Jadeite dishes were made in the 1950s. Look for this trademark:
OVEN Fire-King WARE MADE IN U.S.A
Learn more: How to Identify Fire-King Jadeite Dish Markings
Fire-King Banded Dishes Made in Jadeite
Several Banded dishes were produced in Jadeite:
One Band:
Two Bands:
Three Bands:
8 ¼" vegetable bowl
Cup
9 ⅛" Dinner Plate
Research Sources
Learn more about Jadeite dishes with these collector guides, available on Amazon:
Florence, Gene. Anchor Hocking's Fire-King & More: Identification & Value Guide including Early American Prescut and Wexford. Collector Books, 1998.
Ross, David, and Joe Keller. Jadite: An Identification & Price Guide. Schiffer Publishing, Limited, 2014.
Current Prices for Jadeite Dishes