Introduction
This is Part 2 of the History of Anchor Hocking, where we focus on the company's history from 1905-1969.
Read Part 1: The History of Anchor Hocking (Intro)
Current Prices for Jadeite Dishes
1900s
1905
Former decorator for the Ohio Flint Glass Company, turned businessman, Isaac Jacob "Ike" Collins, founded The Hocking Glass Company in 1905. ("Isaac J. Collins")
Isaac "Ike" Jacob Collins 20 May 1938, Fri Lancaster Eagle-Gazette (Lancaster, Ohio) Newspapers.com
Collins, along with his boss at the Ohio Flint Glass Company, and a group of partners pooled their money to buy the old "Black Cat" carbon plant in Lancaster, Ohio for $8,000. It was named "The Black Cat" for the black carbon that stuck to the walls.
They incorporated the Hocking Glass Company with approximately $30,000 in stock, and in February of 1906, they melted their first piece of glass in "Plant 1".
Anchor Hocking set out with the goal to make glass that homes really needed. Bakeware, servingware, and drinkware. Storage, pantry, and prep dishes. Glassware for all meals, drinks and any occasion.
"The Hockin'" as it became known, even made a profit in its first year of business.
1910s
1911
Just a few years after opening, Anchor Hocking was already one of the town's biggest employers. (Alexander)
1916
Back in the old days, glassmakers used toxic ingredients to create certain colors.
Bone ash (yes, it's what it sounds like), arsenic, selenium and cadmium were all used in the recipe to make Anchor Hocking's Ruby Red glassware.
A slew of questionable ingredients were routinely used in other colors including lead, aluminum oxide ("Milk Glass Is Much Older Than Most People Know"), feldspar, and tin dioxide ("Milk Glass: Your Definitive Guide – Susan Said… WHAT?!").
Banquet Hall lined with Jade-ite and Ruby Ware that Anchor Hocking donated. 18 Mar 1949, Fri Lancaster Eagle-Gazette (Lancaster, Ohio) Newspapers.com
1920s
By the 1920s Anchor Hocking was well known in the glass industry, especially for their tumblers and tableware. (Schroy)
1924
On the night of March 6, 1924, the most disastrous fire in Lancaster's history took place. The Hocking Glass Plant 1, still referred to as "The Black Cat" was destroyed.
Firefighters and townspeople rushed to the scene to extinguish the blaze, but it was all for naught, as the Black Cat burned to the ground.
Foreman Merrill Deavers was found dead in a pile of molten glass the next day, as he succumbed to his injuries attempting to fight the fire.
650 employees were put out of work for the foreseeable future.
The Plant was only partially covered by insurance, so doubts loomed if it would ever reopen. Fundraisers were held, and Lancaster residents even donated out of their own pockets to help rebuild the factory. (Alexander 39)
A temporary office opened at the old Piggly Wiggly grocery store while the rebuilding of Plant 1 was underway. ("Million Dollar Fire Destroys Hocking Glass Plant. Body of Merrill Deavers Found In The Ruins" 1 )
In Memory of the Old Black Cat
by Samuel Clevenger, Hocking Glass Employee
Published June 1, 1925, Lancaster Eagle-Gazette, Lancaster, Ohio (Clevenger, 6)
The old Black Cat that stood here of old.
Though rugged and torn, was precious as gold.
Some kicked it, some cussed it and gave it a slam.
But it provided work for many a man,
She burned one night and many were glad.
But in a few weeks, they all became sad;
For work it provided with plenty to do,
And after it burned they all were through.
The old Black Cat they dispised and did shun;
Was supposed to have nine lives, but she only had one;
One fire unkindled put her in flashes.
And in less than a day she all became ashes.
Due to the effect of the intense heat,
The old Black Cat bleached white as a sheet.
She left to this world one only son,
Now instead of a Black Cat, we have a white one.
By April of 1924, the Hocking Glass Company purchased controlling interest in the Lancaster Glass Company and used that plant to continue production while Plant 1 was rebuilt. The new location would be known as Plant 2 and operated under the Lancaster name until the merger in 1937. (Schroy)
1929
The stock market crash of 1929 signals the start of the Great Depression.
While so many other manufacturers were put out of business, The Hocking Glass Company adapted and thrived with the development of a 15-mold machine that could produce 90 pieces of blown glassware a minute, compared to the previous 1 per minute. Tumblers were sold for "two for a nickel" and their progress allowed the company to thrive during one of the toughest eras in American history. (Samuel Groves)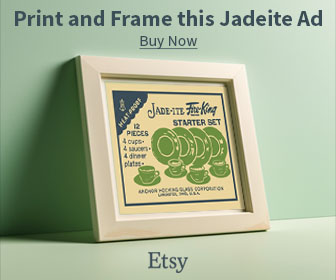 1930s
The Depression Glass Era (1929-1945)
After World War II, the worldwide economy was deeply affected. The severe economic turmoil impacted many people for most of the 1930s. ("Great Depression")
Coming out of the Depression, Americans needed some cheering up. Perhaps some colorful dishes could do just that?
Depression glass was cheaply made and mass produced in a variety of colors by Anchor Hocking.
Brightening up homes across America were Jadite, Delphite, Cobalt Blue, and Ruby Red; a few colors in the Anchor Hocking lineup.
Jadite made by Jeannette and McKee before World War II contained uranium and glowed under a blacklight. However, Anchor Hocking Fire-King never made Jadeite dishes that glowed.
Learn More: Spooky Stuff! These Jadeite Dishes Glow Under a Black Light
1931
The Hocking Glass Company purchased a 50% interest in the General Glass Company and began producing glass containers. As a result, it also acquired the Turner Glass Company of Winchester, Indiana. ("Anchor Hocking History: Founding, Timeline, and Milestones")
1933
Unions started to have a bigger impact for factory workers. The American Flint Glass Workers' Union (the Flints) had a presence in Lancaster as early as 1904, however, the Union didn't gain traction until 1933. That's when President Franklin D. Roosevelt's National Industrial Recovery Act (NRA) came into effect. It stated that employees had the right to join independent unions, to bargain collectively, and receive a minimum wage. (Alexander 37,38)
1934
After prohibition (1920-1933), Hocking Glass and its subsidiary, General Glass designed the first non-returnable beer bottle in 1934. (Burnett Jr. 1)
This was a major achievement in the glassware industry.
Prior to, beer cans had a monopoly on the packaging business. (Peter Schulz, Bill Lockhart, Carol Serr, Bill Lindsey, and Beau Schriever 3) Just like renting a movie from the video store – glass beer bottles had to be returned after you were finished with them.
1935
Unions become standardized. In 1935, the NRA was overturned by the Supreme Court, but the same year, the National Labor Relations Act (the Wagner Act) was introduced and allowed for better working conditions. This allowed unions to become essential to the American economy. ("Anchor Hocking History: Founding, Timeline, and Milestones", Alexander 38)
View this post on Instagram
1937
Despite pressure from unions ensuring fair wages and working conditions, and the Great Depression, Anchor Hocking's success continued to grow. (Alexander)
In 1937, it acquired Anchor Cap and Closure and became the Anchor Hocking Glass Company, continuing to play a big role in the glassware industry.
Board members of Anchor Hocking wanted the company's headquarters to be moved to the more affluent location of New York, rather than small town Ohio.
But the town of Lancaster relied on Anchor Hocking, and Anchor Hocking relied on them; so a compromise was met. The board agreed to build a more suitable hotel for traveling executives and businessmen to stay at while they visited the plant.
hotel lancaster – jadite room 28 Sep 1951, Fri Lancaster Eagle-Gazette (Lancaster, Ohio) Newspapers.com
1940s
Anchor Hocking employees had a variety of extracurricular activities to choose from. There were company baseball teams, bowling, gin rummy and basketball. Scores were regularly published in the Lancaster Eagle Gazette, and there was an industry baseball league where competing glass factories met on the field.
The company band, called "The Black Cats" even performed at the Lancaster county fair. ("Anchor Hocking's 100-Foot Fair Tent To Hold Glass Plants of 1943, Century Ago" 20)
There was even a ladies bowling team. "The Jadites", squared off against "The Fire-Kings" and the "Azurites" in league bowling games. ("F.S. Machines, Jadites Tops In Bowling Leagues" 12)
"Jadites, captained by Linda Brode, rolled into top spot in opening team events of the Lancaster Women's Bowling Tournament over the weekend with a 2951 total"  the Eagle Gazette reported.
1940
On June 5, 1940 the Hotel Lancaster opened its doors for business. ("Lancaster To Be Locale For Giant Civic Celebration" 1)
The modern hotel, privately funded by Anchor Hocking and the community. was even considered the best hotel of its size in the Midwest. (Alexander 40)
The hotel featured the Soda Grill, the Colonial Room, and the Pine Room.
But there was a more intriguing room inside the hotel…
The Jadite Room.
womens dinner in the Jade-ite room PICTURE! 21 Apr 1948, Wed Lancaster Eagle-Gazette (Lancaster, Ohio) Newspapers.com
Current Prices for Jadeite Dishes
Yes. Banquets, meetings, parties and weddings were held at the Hotel Lancaster's prestigious "Jadite Room".
There was even an Anchor Hocking gin rummy team called "The Jadites", who played league games there.
Collectors can let their imagination run wild dreaming of what the Jadite Room might have looked like.
An ad in the Eagle-Gazette brags: "You'll Be Green With Envy when you hear your friends speak of entertaining at the Jadite Room."
you will be green with envy!!! the jade-ite room at the hotel lancaster ad! 08 Apr 1949, Fri Lancaster Eagle-Gazette (Lancaster, Ohio) Newspapers.com
Please contact us if you have any pictures of the Jadite Room, as we'd love to include them here!
View this post on Instagram
1942
The First Fire-King Jadite Dishes Are Made
The first Fire-King Jadeite dishes were made by Anchor Hocking in 1942.
"Fire-King Oven Glass" was produced as a result of World War II, while rivaling Pyrex baking dishes. (Alexander 39)
Metal that was traditionally used for household items like baking dishes, trays, and utensils was conserved for war efforts. It was desperately needed most for planes, tanks, guns and ships. (Anchor Hocking 29)
Anchor Hocking's answer was Fire-King. Glass bakeware designed to withstand high heat on the stovetop and in the oven, which essentially replaced the need for metal pots and pans. ("Anchor Hocking's 100-Foot Fair Tent To Hold Glass Plants of 1943, Century Ago" 20)
Fire-King dishes were designed to prep ingredients, cook food in, serve from at the table, and store leftovers in – all using the same dish.
Over 3,000 Anchor Hocking employees joined the army and fought in World War II. Sixty-three of them were killed in action. After the war 80% of those veterans returned to work for Anchor Hocking. (Alexander 24)
Read More: The History of Jadeite Dishes
Jadite Dishes Were Given Away for Free
Jadite dishes were routinely given away for free (or close to) with purchase. Here are a few companies that held promotions:
Lancaster Eagle Gazette
Get a free 4-piece Jadeite mixing bowl set with purchase of a 1 year newspaper subscription.
Howard the Trader's Furniture and Appliances
Get a free 35-piece Jadeite set with purchase of a furniture suite.
Grilli's Pizza
Get a free 1.5qt FireKing casserole dish with lid when you order 2 large orders of Grilli's Italian spaghetti.
Sinclair Gasoline
Get free Fire-King Oven Ware with the purchase of 5 gallons of gasoline.
Humble Service Centers
Get a collectible Tiger Fire-King mug for only 10 cents with any purchase from a Humble Servicenter.
Big Bear Coffee
Get a Jadeite Heat Proof Coffee Mug for only 5 cents with the purchase of 1 lb of Big Bear Coffee.
Sealtest Ice Cream
Get a free Fire-King baking dish with the purchase of a half gallon of Sealtest ice cream.
Next time you're at the gas station, instead of being disappointed by high gas prices yet again; imagine what the good old days must have been like with full service gas stations and collecting free Jadeite dishes just by filling up your car. It might just put a smile on your face.
fireking-ad- tiger mug 04 Oct 1965, Mon Lancaster Eagle-Gazette (Lancaster, Ohio) Newspapers.com
Free with purchase of PurAsnow flour Jane Ray bowl 11 Mar 1948, Thu The Eagle (Bryan, Texas) Newspapers.com
fire-king ad 18 Oct 1961, Wed Lancaster Eagle-Gazette (Lancaster, Ohio) Newspapers.com
Free Jadeite bowl with Albers oats 08 Oct 1948, Fri The Capital Journal (Salem, Oregon) Newspapers.com
1947
Forbes dedicated its entire 30th Anniversary issue to Lancaster, Ohio. A booming "All American town" with Anchor Hocking at the helm.
The suburbs were the place to be after the war, and Anchor Hocking provided stable jobs for residents, producing 64 million dollars in sales (approximately 700 million in today's dollars). (Alexander)
1948
"The Anchor Hocking Glass Corporation brings you "Crime Photographer."

"…You gotta do something to be famous – like Anchor Hocking. The most famous name in glass."
Anchor Hocking sponsored the radio show "Casey Crime Photographer" in 1948; a feminist whodunit mystery series marketed at housewives.
The 1948 Billboard magazine review showed its age with a skeptical review of the show's plot and its business agenda:
"While the show does not compare badly with the average mystery airer, injection of the few female hormones into the plot produced hardly any noticeable touch which would render it more attractive to the weaker sex."
The show was later dropped by Anchor Hocking in 1948 and then sponsored by Toni Home Permanent – a do-it-yourself perm kit; perfect for you – and your friends.
Listen to the Radio Show: Casey Crime Photographer
1950s
1950
Business is booming for Anchor Hocking who now owns fourteen manufacturing plants across North America, and seven subsidiary companies.
As the second largest glass manufacturing company in the world, they now employ 10,000 people. ("Anchor Hocking Glass Corporation "The Most Famous Name in Glass"" 129)
Anchor Hocking sponsored an NBC late night TV show called "Broadway Open House". A first of its kind late night TV talk show similar to the likes of Johnny Carson, Jay Leno and Jimmy Fallon. (Alexander)
They advertised to breweries to encourage them to use their glass bottles for bottling beer.
1951
The company purchased and upgraded its own airport just north of Lancaster to operate its own fleet of delivery planes. The airport formerly known as Port Lancaster was now called Anchor Hocking Airport. ("Anchor Hocking To Put New Plane In Service This Week" 5)
1960s
1962
In 1962 Anchor Hocking added a new glass container plant in Houston, and also added a second unit to the Research and Development Center, known as the General Development Laboratory.
1963
In 1963, Zanesville Mold Company in Ohio became a subsidiary of Anchor Hocking Corporation and designed and manufactured mold equipment for Anchor Hocking. ("Anchor Hocking History: Founding, Timeline, and Milestones")
1968
Anchor Hocking continues expanding and announces plans for a multi-million dollar distribution center on 460 acres near Lancaster. ("Anchor Hocking Plans Huge Local Expansion" 1)
anchor hocking distribution center artists rendering 08 May 1968, Wed Lancaster Eagle-Gazette (Lancaster, Ohio) Newspapers.com
They also acquired Plastics Inc, based out of St. Paul, Minnesota. A major supplier for in-flight dinnerware, plastic drinkware, dinnerware and cutlery. ("Anchor Hocking Plans Huge Local Expansion" 1)
1969
The company was starting to expand and diversify worldwide, so in 1969 Anchor Hocking Glass Corporation dropped "Glass" from its name and became the "Anchor Hocking Corporation". ("Anchor Hocking | Vintage Eve's")
A Different Way to Do Business?
The following year, economist Milton Friedman shared his ideologies about business and profiteering in a New York Times article. The key takeaways laid dangerous tracks for globalization and "social responsibility" to run rampant in the 1980s.
The Friedman Doctrine declared the only social responsibility of a business is to increase its shareholders' profits. Do-gooders should do good on their own time – not at the expense of the company.
Forbes: The Origin Of 'The World's Dumbest Idea': Milton Friedman
View this post on Instagram
Environmentalism and employee rights were considered a waste of resources. And not only was engaging in social deeds frowned upon, it was considered a threat to the basis of a free society. (Friedman)
For the middle class, this ideology was generally perceived as unsound. But the author being a Nobel Prize Peace Winner allowed it to gain substantial momentum.
For businessmen thirsty for power and control, this became their mantra and would spell trouble ahead for small town America, and Anchor Hocking.
Read the 4-Part Blog Post Series About the History of Anchor Hocking
Discover some untapped nostalgia, as we follow the history of Anchor Hocking through the decades in this 4-part series.
Current Prices for Jadeite Dishes