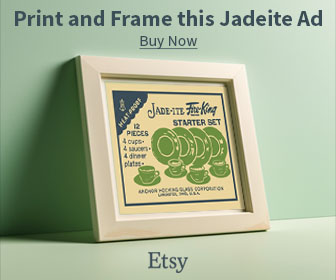 Bargain hunting for Jadeite is usually a lot of fun. Finding an underpriced piece can bring a rush of excitement, and keep you on the hunt for more. However, my most recent purchase, a Fire-King Jadeite batter bowl was anything but a bargain. In fact, I generously and willingly overpaid for it.
I had succumbed to Jadeite Fever.
Allow me to justify my Jadeite addiction. I'm sure you can relate…
How to Identify Jadeite Fever
Jadeite Fever is sneaky, and it can overtake your senses quickly, pressuring you into making all sorts of ill-advised decisions. I've lost count of how many batter bowls Fire-King Grill has, but I know it's at least ten, so we certainly didn't need this premium-priced purchase. Especially since in the Vancouver, BC area, Jadeite batter bowls can still be easily bought for $50-$60.
I veered off my bargain radar this time because I had just spent the entire day scouring through several antique shops without any success It had been a long day and a complete bust. So, by the time I finally spotted the batter bowl at the last antique store on my route, I was ready to take home just about anything.
Not finding any Jadeite at all, or only finding reproductions and badly damaged pieces, put me at my worst.
Current Prices for Jadeite Dishes
Desperation and Duplicates
Fatigue, frustration and desperation had set in. So when I saw the price tag of $80, I was long past the stage of any clear headed thinking. I gave the bowl a quick look and was satisfied it was in good condition – which in the moment, justified the price. I headed straight to the cash register. I never even had any of the usual conversations with myself about:
Why I shouldn't overspend
How I should be patient and just wait for another day
What was I doing buying something that I clearly didn't need
Why am I a hoarder
etc., etc.
There was no point in any of that because Jadeite Fever had already hijacked my common sense.
Seeking Redemption
I did, however, redeem myself by finding this lovely Fire-King Tulip Shaker for the reasonable price of $38. It was in pristine condition, with no colour fading on the tulips, or any other damage. Even the lid is in great shape. Not perfect – it has a little bit of wear on the sides of it, but overall, it's definitely better than most I see.
Fire-King Grill has a number of shakers in inventory, but not too many of them have lids in decent condition, so this was a good find.
Current Prices for Jadeite Dishes
Jadeite Makes Everything Better
So, while buying an overpriced batter bowl wasn't some of my better work, I consoled myself when I got home by making a latte, served in a not overpriced, extra heavy, C-handle Restaurantware Jadeite mug. Jadeite just makes everything better.
What's Your Story?
Do you have a Jadeite addiction? Share your story in the comments below.
Current Prices for Jadeite Dishes